Shawnee's Alexis Railsback named Miss Kansas, to compete in Miss
USA

pageant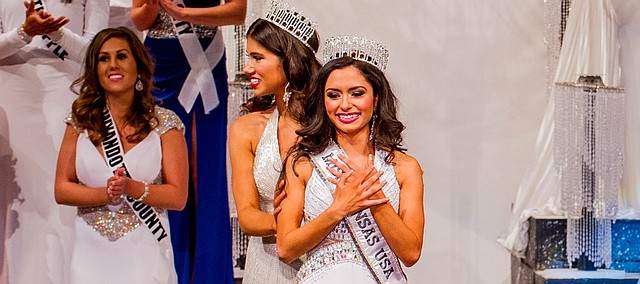 Next summer, the Miss Kansas USA representative in the Miss USA pageant will not only be representing her home state, but her home city, Shawnee.
Alexis Railsback, 19, took the crown of 2015 Miss Kansas USA in November and New Year's Day signaled the beginning of her year as Miss Kansas. She will tour the state, raising money for numerous charities and making special appearances as this year's winner. She also begins her training for the Miss USA pageant.
The title came as a shock to the Shawnee Mission Northwest graduate. It was her first time competing in the Miss Kansas USA pageant. She had only competed in two previous Miss Teen Kansas pageants where she came in fourth runner-up two years ago and in the top 15 on her second try.
"I was shocked," she said. "I wasn't expecting to win my first."
Railsback was supported at the Wichita competition in November by her parents, John and Robin Railsback, grandparents and aunt and uncle. She said she was proud to represent Shawnee at the competition as her hometown. She was born in Overland Park, but moved to Shawnee when she was 3 and attended Sunflower Elementary School and Westridge Elementary School.
"I'm definitely proud to represent my city, it was a very positive experience growing up here," she said. "It feels good to bring that title to Shawnee."
Railsback is taking advantage of her title by using all of the benefits the Miss USA pageant has to offer. Miss USA is part of the Miss Universe Organization, which is owned and operated by Donald Trump. It is a separate organization from Miss America. Railsback said she chose to compete in the Miss USA pageants because of the focus on developing individuals into all they can be.
"It's about beauty, but it's also about launching a career and getting to meet some great people," Railsback said.
Railsback is currently a freshman at Johnson County Community College but hopes to transfer to Rockhurst University or the University of Missouri at Kansas City to pursue a degree in business administration. She said she wants to combine that degree with some formal education in makeup art.
"One day I want to own my own line of cosmetics," she said.
Her ambitions have a clarity rarely seen in a 19-year-old, and she has to make that stand out as one of the youngest contestants in the Miss USA pageant. To give herself the best chance of winning, she has a team of professionals around her through the Miss USA organization that will help her along the way.
Her team of coaches include personal trainers, interview coaches and stylists who work with her and local sponsors to get Railsback looking and performing her best.
As part of the preparation for June's Miss USA pageant and as a benefit of being named Miss Kansas, Railsback will be working with local Kansas charities and organizations throughout the year. She will make featured appearances and fundraisers and help bring awareness to some of her favorite charities. Through the Miss USA organization, she will mainly be working with the charity Warriors for Ross, which raises money for children with cancer and their families.
"It means so much to be able to help them and other charities," she said.
The Miss USA pageant will be broadcast live on NBC in June.
More like this story