KC

Ballet

ROAD

program inspires students to relish dancing, learning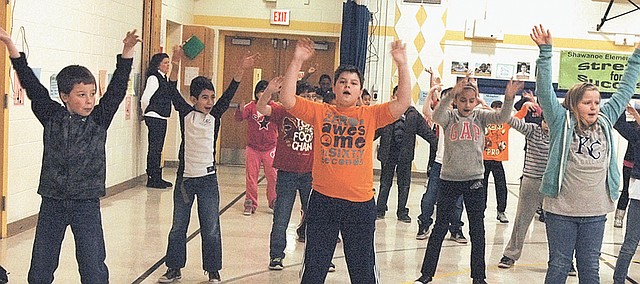 Once a week, the entire fourth-grade class at Shawanoe Elementary School heads to the building's gymnasium for 60 minutes of music and exercise.
But it's not your typical physical education class. It's called Reach Out and Dance, or ROAD, and it's a year-long program offered by the Kansas City Ballet School that teaches dance skills to some 700 fourth-grade students in the Kansas City metropolitan area every year.
While the students are certainly introduced to the world of dance through ROAD, that's not all the program is about, says Linda Martin, KC Ballet's director of community programs. The high-energy classes taught by friendly but firm ROAD dance instructors keep students moving to the tune of live piano accompaniment. And while they are learning dance routines, the students are also learning about music, exercise, cooperation and how to follow instructions, among other life skills.
"Some kids learn better when they're moving," Martin said, calling the program "a true collaboration" between KC Ballet and the schools.
Started in 1999, ROAD has been offered at Shawnee Mission school district's Title I schools — those schools that receive federal funding based on a high number of low-income students — since the 2007-08 school year, Martin said.

"For me, it's a huge passion," said Shawanoe Principal Alejandro Schlagel, who gets the opportunity to see first-hand the impact ROAD has on his students. "It's not about the good dancer, it's about the struggling student who might not understand it academically, but through movement and cooperation can excel."
Dancing is clearly the main focus, however, for some of the students in ROAD, who may already be picturing themselves performing professionally in "Swan Lake" or "Giselle" to packed houses. For some of those students interested in taking their ROAD training a step further, the KC Ballet offers a unique opportunity: full scholarships for a year-long ROAD extension class onsite at the company's Todd Bolender Center for Dance and Creativity in Kansas City, Mo. The class, held once a week, offers more formal instruction in ballet in an actual dance studio setting. The capper: At the end of the school year, the students get to take part in the Kansas City Ballet School's year-end spring performance at the Kauffman Center for the Performing Arts in Kansas City, Mo.
Three of those students will be from Shawanoe Elementary. Fifth-graders Jaedis Horton, Jaiseanna Brown and Megan Campbell all auditioned and received scholarships for the extension class.
"I'm a better leaper now, 'cause she taught me how to leap," said Megan of what she is liking about the extension class, taught by Nadia Iozzo, a former dancer with the KC Ballet who is now a teacher with the KC Ballet School.
Iozzo said there are 19 students in her ROAD class this year.
"I guess more than anything you really feel like you're making a difference for these students, because not all of them would necessarily have an opportunity to participate in a class like that elsewhere," she said. "So it's a really special opportunity for them."
Jaedis, who has been taking dance classes since she was 3, said she enjoyed the ROAD class last school year and wanted to continue with it "because I (wanted) to do something different than my regular dance."
Her mom is pretty proud of her, too, Jaedis said.
"Because she sees me doing it and working hard," she said.
Both Jaedis and Megan said they wanted to be professional dancers one day, and Martin said the extension class was a solid step in the right direction, serving as a transition into more advanced classes with the KC Ballet School should the students and their parents choose to pursue that. It also helps to prepare them mentally for "the whole process of learning the commitment of studying dance," she said.
That lifelong commitment is something Iozzo can attest to.
"Being a dancer requires a lot of hard work, commitment and sacrifice, but it is all worth it when you step onto that stage," she said.
More like this story