Fitness boom in Shawnee: Everfit and 9Rounds to open in coming months
Shawnee — Two fitness gyms are opening in Shawnee in the coming months and both offer unique takes on fulfilling your New Year's resolutions and exercise goals.
Whether it's kickboxing, cycling, yoga or Zumba, Shawnee is expanding its portfolio of options. 9Round Fitness is opening in February in the Shawnee Parkway Plaza while Everfit, located off Midland Drive next to Westglenn Eye Care, plans to open a month later.
Here's a look at two of the most recent additions to the growing list of fitness gyms in the city.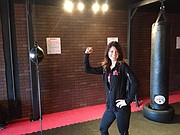 9Round
The music puts a beat to everything inside 9Round Fitness. At the Mission location, owner Angela Ferber high fives, fist bumps and gives her clients words of encouragement as they make their way around nine stations in 30 minutes.
There are all types of stations from free weights to cardio to kickboxing. Ferber said 9Round is unique because of these stations and the variety they allow each workout to have. And the popularity of this format of working out can be seen in the rapid expansion of 9Round locations around the county and in the Kansas City area. Two years ago, there was only one franchise location in the metro, now, there are 11 and more are being built, including one in Shawnee in the Shawnee Parkway Plaza.
Ferber, who owns the Mission location and another location in Kearney, Mo., said the Shawnee location is scheduled to open in mid-February.
"There is nothing in Shawnee like this," Ferber said.
She and her husband David, a Kansas City, Mo., police officer who helps out at the locations occasionally, say they are excited to open in Shawnee.
"We like to bring more opportunities to smaller towns and we love to get involved in the community," David Ferber said.
9Round is a 30-minute exercise system in which clients can exercise without a set appointment.
"It fits a busy, hectic lifestyle," Ferber said. "you can just come on your own time."
The clients can arrive and start a cycle every three minutes. There are nine "rounds," or stations, where they perform a variety of exercises for three minutes. There is then a 30 second "active break," as Ferber says, in which they perform some other activity and learn what their next station will entail. She said no previous kickboxing experience is necessary as the trainers do all the instructing.
"You pretty much never stop moving for 30 minutes," Ferber said. "You leave here a dripping, sweaty mess."
Ferber said she is looking to hire three trainers for the Shawnee location.
Ferber said that the Shawnee location will offer a one-week new member sale when they open. Memberships typically cost $55 per month for six months with the option to pay for an entire six months in one payment of $289.
For more information on 9Round, visit their Facebook page or 9Round.com.
Everfit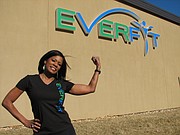 It's a premise that is becoming more and more popular. A premise that it's easier and more fun to work out in a group.
"It's hard to come and work out on your own sometimes, it can get boring," said Dawn Rattan, founder of Everfit.
Rattan, who has lived in Shawnee for more than a decade, wanted to open a fitness center in Shawnee where she said there has previously been a vacuum of activity. Most of the trending types of gyms are located more than 20 minutes away around Kansas City. Everfit, 16200 Midland Road, is easy to access off Interstate 435 and in centrally located in Shawnee.
Rattan is a mother of three who also owns Village West Discount Liquor with her husband Manu Rattan. Dawn Rattan has always been an active person in her life, first as a student studying chemical engineering at Florida A&M University, then working for Proctor & Gamble in Cincinnati, Ohio, then as a stay-at-home mother.
"I've always enjoyed being active," she said. "It's a great stress relief, it's very therapeutic."
Her concept for Everfit was to create a place where the community could come together and exercise in a group setting.
"I love working out and I love bringing people together," she said.
Inside Everfit, a 3,000-sqare-foot facility, will be three exercise classrooms. One for cycling classes, where there will be 16 Keiser bikes. One for boxing that will include everything from a boxing stand to boxing bags for traditional or kickboxing classes. A third room, the largest, will be for group yoga, palates, Zumba, and dance classes. There will also be a children's room where they will be supervised by a child care specialist with games and toys.
Rattan has assembled a team of 12 instructors at Everfit and is still recruiting about three more. She said she hopes people will see Everfit as a chance to try new classes not only throughout the week, but throughout the year.
Everfit will offer 60 weekly classes initially. Everfit's price point is designed, Rattan said, to benefit the those who sign up for more classes. A single class costs $12, a five class package costs $55, ten classes cost $100, 20 classes cost $180 and 30 class packages cost $240. For unlimited classes in a one year contract, customers would pay $60 per month, while unlimited classes for just one month costs $95. Rattan will also be offering a new client special of three classes for $25. The classes last anywhere from 45 minutes to an hour and a half, Rattan said.
Everfit was originally scheduled in open in January but construction delays have pushed back the opening day to sometime in March. Rattan said she still hopes to get in some of those fighting to keep their New Year's resolutions alive but also looks forward to working with those who have goals to trim up before spring and summer breaks.
For more information on Everfit, visit EverfitKC.com.
More like this story