Device Shop brings entrepreneurial spirit to Shawnee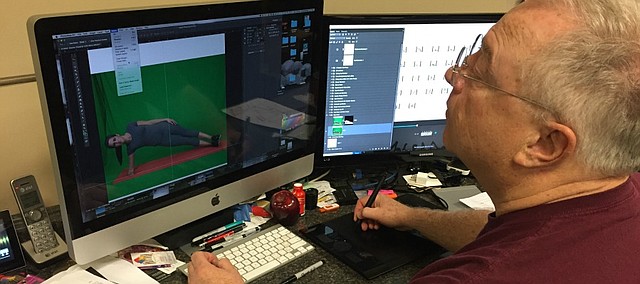 Shawnee — Concealed within the Device Shop in Shawnee, some incredible things are being made.
In one room, a man works on a camera rig similar to the ones that fly over NFL fields capturing the action from the air. Everything on the rig was created in the Shawnee shop using 3-D printers and other tools. In another room, a man's device for farmers used to take measurements of moisture in grain, so precise that it gets down to fractions of percentages, nears completion.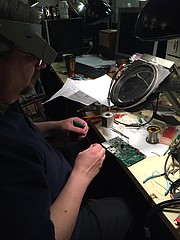 For these entrepreneurial creations, the Device Shop was their incubator, but also much more. For the creators of the Device Shop, they are offering something new not only in Kansas, but across the country.
Managing member Dave Palmstein calls the venture a resource and development center for startups. Like an incubator or accelerator, it offers entrepreneurs space to create their product but unlike an incubator, it also offers them business tools to not only get them off the ground, but to see them to the ultimate success of seeing a return from a successful business.
Palmstein and his two partners Gregg Whittaker and Jeff Alholm opened the Device Shop, 10316 Shawnee Mission Parkway, in January. They wanted it to be different on several levels. Not only were they going to offer development resources to their companies, but they would make hardware, something tangible.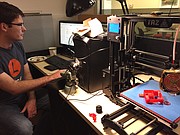 Many incubators serve as places where people design software, apps and other computer programs. The managing members of the Device Shop, Palmstein said, wanted to create things that had more permanency.
"We all had a common theme and that's that we wanted to build real things," Palmstein said. "But this isn't a hobby shop, this is a real business environment."
Palmstein, who has worked with startups for 30 years, serves as a business coach in technology and manufacturing at the Device Shop. Whittaker, a professor of economics at William Jewel College in Liberty, Mo., is the Chief Finance Officer and makes sure each project is adequately funded. Alholm brings an electrical engineering background to the table along with experience with medical technology and makes sure each device created within the Device Shop's walls are quality.
The creators within the device Shop are given access to 8,700 square feet of offices, meeting rooms, labs and creative studios along with access to the Device Shop's business development resources. Palmsstein said their six-step method for bringing a device idea from its genesis to completion is one that significantly increases the chances of success. He said the global average for success for hardware device creation in only about 20 percent. Palmstein said people under the program have had a 90 percent success rate.
"We help them not only build their product but also build a business," Palmstein said. "We have a whole support structure for helping these companies succeed."
Tenants in the device shop pay a fee to earn a membership, which allows them to use all of the resources inside the Device Shop. Companies can also pay for contracted services like the Device Shop's business development classes or can exchange equity for the services.
Palmstein said the Device Shop is about collaboration more than anything and everyone wants to see each other succeed.
"We want to make money with people, not off people," Palmstein said.
That collaboration is one of the reasons why Palmstein and his partners opened the Device Shop in the Kansas City area. He said Shawnee has a community mindset that has the potential to really help entrepreneurs. That mindset has already led to measured success as the company is now looking to expand, Palmstein said.
He said that devices being created in the current Device Shop space are already needing more room for production and they hope to expand to a second building within a year. The second building, Palmstein said, will allow them to further continue their working relationship with their developers by adding many more production options like a production line.
Palmstein said a big benefit of the Device Shop and the few hardware resource and development centers like it in the country, Device Shop being the only one in the Midwest, are to bring the production of these products back to the United States from foreign countries. he expects there to be a lot of device success in the area of medicine because of the presence of Cerner and other companies in the area.
Palmstein said that his years of experience have shown that once these startups find success and investors realize the potential of them, the community as a whole benefits.
"Once you get to the return phase, it will take off like gangbusters," Palmstein said. "There will be spinoffs of spinoffs of spinoffs."
To learn more about the Device Shop, visit www.thedeviceshops.com.
More like this story