Mill Valley student gaining the full Japanese immersion treatment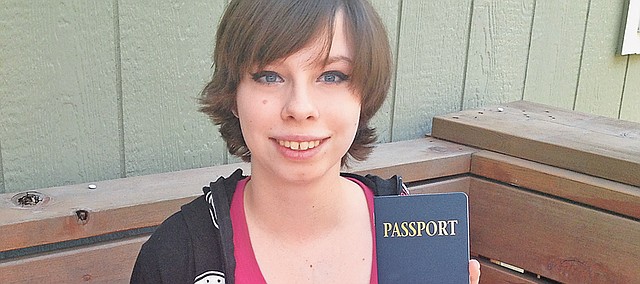 Makenna Langton has been passionate about all things Japanese since she discovered the world of anime several years ago.
"I just got caught up in that, and then it just kind of progressed from there," said Langton, who will be a sophomore at Mill Valley High next school year. "I like that they're a very peaceful culture and people on a whole. … Pretty much, there may be a few things I don't like, but for the most part, I like anything about it. I used to not like sushi, but now I'm starting to like it."
Langton's passion has led her to learn the language, something she has been working on with tutors and classes for about four years. She is a member of the Heart of America Japan-America Society, too. She also plans to visit Japan one day and has a goal of majoring in Japanese studies in college.
But before all that, Langton is this summer getting a true taste of what the Japanese culture is all about. She is currently in Dent, Minn., taking part in a two-week Japanese youth immersion camp through Concordia Language Villages. A program of Concordia College in Minnesota, Concordia Language Villages teaches language proficiency through a number of country-specific villages that are designed to look and feel like an area of the actual country itself.
"Coming to the Language Villages for a summer language immersion program is just like entering a new country. You'll get your Village passport stamped at customs, receive your cabin assignment and help us determine your language proficiency (don't worry — no experience required!)," is a description of the program on its website, concordialanguagevillages.org.
Students also trade in their own money for whatever currency is used in the country represented by the village they are attending. They take part in the country's typical daily activities and traditions as well, and enjoy traditional foods and recipes at meals. Countries available to be immersed in range from Italy to Portugal to Russia and Norway.
The name of the Japanese village Langton has been attending is Mori no Ike, which means lake or pond by the forest.
"Definitely improve my fluency in the language, meet new people, possibly longtime friends," Langton said a week before leaving for Minnesota of what she was hoping to gain from the experience. Langton's camp kicked off June 22 and will run through Saturday.
To be accepted into the program, Langton had to write an essay detailing her reasons for applying. Her current tutor, Kazuyo Rumbach, also wrote her a strong letter of recommendation, said Kristan Langton, Makenna's mother. Rumbach teaches Japanese classes at Johnson County Community College.
"I'm sure that held a lot of weight because (Rumbach is) fabulous and she loves Makenna," Kristan said.
A stint at Concordia Language Villages isn't cheap, costing nearly $2,000 for a two-week summer immersion camp. Much of Makenn'a expenses were covered, however, by a $1,500 scholarship she received from the United States-Japan Foundation.
"I was screaming," Kristan said of when she and her daughter received Makenna's letter of acceptance into the program on April 2. "I thought it was going to be a 'so sorry' (sort of letter) because it was so flimsy. It was just one letter. But instead it was a 'hey, you've been chosen.' We both cried."
One drawback for some: The immersion camps are totally unplugged — meaning no cell phones, tablets or other technological devices are allowed. Email is prohibited, as well, Kristan said.
She expects her daughter will rise to the challenge of not only being without technology of any kind for two weeks but also experiencing her first major trip away from home.
"I think it's going to be awesome," Kristan said prior to the trip. "I think she's going to come out of it and be stoked and ready to go to Japan on the next flight. … I think Makenna is going to be with her peeps, kids who like the same stuff she likes. And I think it's going to be spectacular."