Firehouse Subs donates to area fire departments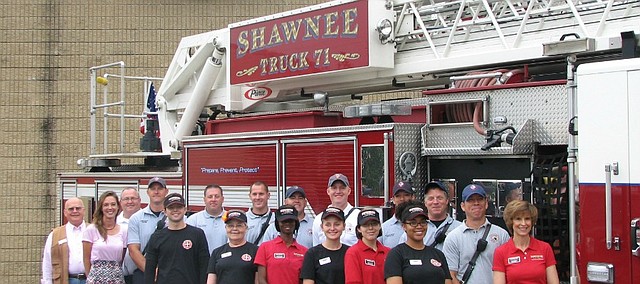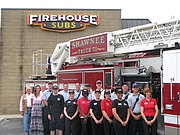 Firehouse Subs and the restaurant's Public Safety Foundation recently donated more than $50,000 worth of equipment and grants to the Shawnee Fire Department, Edwardsville Fire Department, Johnson County Fire District and the Franklin County EMS.
The Firehouse Subs Public Safety Foundation, local franchise owners Steven Heath and Robin Heath, and Area Representative David Johnson presented the donations on Thursday at the Shawnee restaurant location, 6415 Quivira Road.
The Shawnee Fire Department received a grant worth $2,000 that will go to new equipment and education materials for its CPR training. The grant money will help them be able to teach CPR, first aid and automated external defibrillator operation to more than 120 community members.
The Edwardsville Fire Department received three thermal imaging cameras, 11 pairs of firefighting gloves, an AC hotstick, a pressure fan and six LED flashlights, all worth more than $18,000.
The Franklin County EMS received vehicle extrication equipment worth $17,000 that will help them when assisting victims in car crashes.
The Johnson County Fire District received a new All Terrain Vehicle worth $18,000 that will better enable them department to respond to off-road incidents in rural areas.
"This foundation is the heart of Firehouse Subs," Johnson said.
In 2005, Firehouse Subs created the Firehouse Subs Public Safety Foundation to funding, life-saving equipment, and educational opportunities to first-responders and public safety organizations. Through the non-profit 501(c)(3), Firehouse Subs has given $13 million to first responders in 42 states and Puerto Rico, including more than $104,662 in Kansas.
"This is our home, we want to give back to our community," Robin Heath said.
Of the money raised through the foundation, 60 percent of it comes from donations made by customers in the restaurants. Donation canisters on register counters collect spare change, while the Round Up Program allows guests to "round up" their bill to the nearest dollar. Each restaurant also recycles leftover, five-gallon pickle buckets and sells them to guests for $2.
Members of the Shawnee Fire Department, Edwardsville Fire department and the other agencies were on hand to accept the donations and they all expressed their gratitude. Shawnee Mayor Michelle Distler and Edwardsville Mayor John McTaggart also thanked the foundation.