A special election asking registered voters in the De Soto school district if they want a school board member to be removed from office is scheduled for next month.
The election, set for Aug. 18, will ask voters whether they want to recall board member Scott Hancock from his Position 4 seat on the board.
The election comes after a concerted effort by a group of patrons to gather the required petition signatures needed for a recall election to occur. The Johnson County Election Office requires petitioners to gather at least 1,000 signatures from registered De Soto school district voters. Assistant Election Commissioner Kathy Spann said that out of the 1,393 signatures submitted by the petition sponsors, 1,190 were deemed valid by the election office.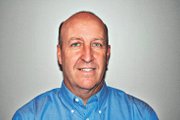 The petition was approved by the election office on June 3, Election Commissioner Brian Newby said. It blames Hancock for bullying, harassment and the high number of administrators who resigned last school year.
"Each week, he consumes 40 hours of district time on calls to administrators and district staff, harassing or belittling them, and making demands exceeding their responsibilities," the petition stated. "His harassing and intimidating actions are so pervasive, they prevent him and others from performing duties for which they are elected or hired. In the last 30 days, 10 administrators have resigned."
Board President Angela Handy said she signed the petition.
By law, Hancock is allowed to respond to the petition via a formal written statement, Newby said.
"We have not received anything from Mr. Hancock," he said, noting that a response from Hancock wouldn't have "changed anything regarding approval of the petition. … We operate under laws — statutes — and we are simply rule followers, doing what the law says we do with a valid petition."
Hancock did not respond to a request from The Dispatch for further comment now that the election is set. But he told The Dispatch in April he believed he had done nothing wrong, saying that it was his propensity for asking tough questions about district financial decisions that had riled fellow board members, administrators and patrons.
"I don't know if it's a vendetta, but I'm sure there's people in administration who wish I would go away. I'm sure there's other board members that wish I would go away," he said. "They have a different view of the world than I do, I'll call it. Because of that, this whole thing's been a good old-fashioned smear campaign, simple as that."
While the voters will ultimately decide Hancock's fate on the board, recall elections in Johnson County have historically always been successful, Election Commissioner Brian Newby told The Dispatch in May. He cited a 2010 recall election in Gardner for City Council members John Shepherd and Mary Peters, both of whom were accused of violating the Kansas Open Meetings Act. Despite the fact that District Attorney Stephen Howe later found they had not violated the KOMA, recall elections for both of them were still successful.
"Once it gets to be a recall, the person is going to be recalled," he said. "I wouldn't say it's easy to recall someone, it's quite hard. On the other hand, if you're determined, as we've seen in the past, than it can be done, and you don't have to have a dramatic reason why."
Newby said the election office is currently in the process of securing polling places for the special election. Voters will receive postcards prior to Aug. 18 letting them know where they can vote and what their advance voting options are, he said.
Depending on voter turnout, the cost to the district to hold the special election could be between $10,000 to $15,000, said district spokesman Alvie Cater. He said the election expenses would come out of the district's reserve funds.
If Hancock is recalled, Cater said, the board would appoint a new member.