Local player headed to All-American Games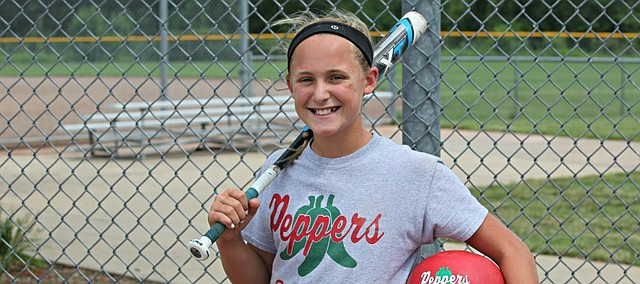 Ava Bredwell, an 11-year-old Shawnee resident and incoming seventh grader at Monticello Trails Middle School, has a season pass to Schlitterbahn. But while plunging toward the ground from nearly 170 feet in the air was fun — she got the chance to ride the famous new water slide Verrüct — it was not the top highlight of her summer.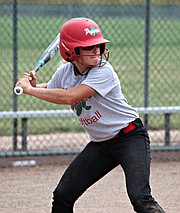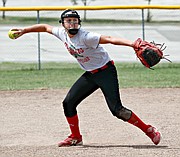 Instead, playing softball has brought Bredwell the most amount of joy. It's her passion, and because of her dedication to the game, she'll soon be traveling several hundred miles away to participate in a national event.
Bredwell was chosen as a member of the USA Elite Select Midwest 11-and-under team that will compete at the organization's inaugural All-American Games in Kissimmee, Florida, July 13-16.
The national showcase will feature eight regional teams from across the country: Midwest, Atlantic, Northeast, Northwest, Central, Far West, Great Lakes and Southeast. Pool play games will be held on Tuesday, and bracket play will begin on Wednesday.
"I'm really excited about it," Bredwell said. "I get to meet different girls and play with them and cooperate with them, and I know that it will all be fun."
Bredwell normally competes for the KC Peppers travel team, based in Olathe. She plays a lot at third base, a position she embraces because of the challenge it provides. Diving after ground balls and making strong throws across the field to first base give Bredwell a level of satisfaction that fuels her competitive spirit.
"I practice pretty much every day," said Bredwell, who started playing softball when she was four years old. "With my team, I practice once week, and we have tournaments every weekend. We practice all through winter, and that's when I really work hard and develop a lot of skill."
While playing softball is the main objective of the trip to Florida, stops at Universal Studios and the University of Florida are also on the schedule.
Bredwell said she eventually wants to play for the Gators, who won the Women's College World Series earlier this summer.
In the meantime, she'll continue to play with the Peppers and, when she reaches the ninth grade in a couple of years, a very successful high school program at Mill Valley.
"A lot of great players have gone to that school," Bredwell said of Florida. "We always watch college games on TV. I just get really excited watching it, and it makes me want to get up and go play softball."
---
Jon Poorman is the sports editor at The Dispatch. Follow him on Twitter at @JonPoorman for all of the latest community sports news.