Man charged in killing of 7-month-old baby in Shawnee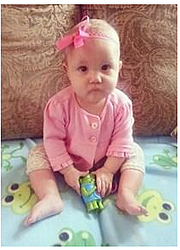 Olathe — An Overland Park man charged with killing a 7-month-old baby last week in Shawnee appeared for the first time in court on Monday.
Aaron Peck, 24, was arrested and charged Friday with first-degree murder and child abuse in the death of Analeece McHenry-Widmer. According to the criminal complaint against Peck, Analeece died on July 7 after being injured on July 6 in the apartment that Peck and the girl's mother shared at the Retreat of Shawnee Apartment Homes, 11140 W. 76th Terrace.
Shawnee police, who are investigating the case along with the Johnson County District Attorney's Office, did not say what the relation was between Peck and Analeece. According to Analeece's obituary, Peck is not the girl's father.
Peck is being held in Johnson County Jail and he appeared Monday in county court. Peck answered the judge's questions by saying, "Yes, sir," and otherwise only said that he will be hiring his own attorney. The judge set his bond at $1 million.
His next court appearance is scheduled for July 23.