Community relishes communication with city government through Third Thursdays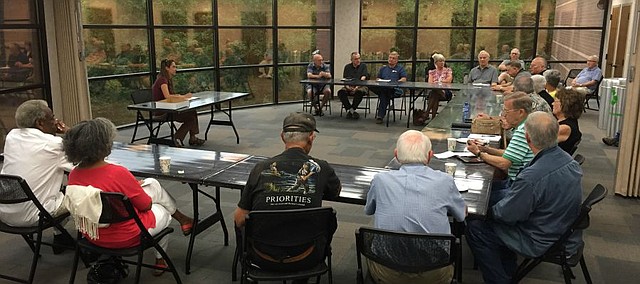 Shawnee Mayor Michelle Distler sat down with about 30 people Thursday morning over coffee to discuss city government in her first Third Thursdays with the Mayor meeting.
Distler began the meetings as a way to make city government more open to the citizens of Shawnee. In return, she also sought feedback from the people who make up the city.
And there is plenty of feedback that she heard. Citizens at the meeting raised questions about the city's road maintenance programs, the plans for the Westbrook Village Shopping Center at 75th Street and Quivira Road, and much more. Citizens also complimented the city and police for their services and thanked Distler for starting Third Thursdays.
"You having these meetings is a fantastic idea," Lance Darby said. "It opens the community up to the city like never before."
And Distler isn't stopping with just these meetings. She has said she hopes to start community meetings during evening and weekend hours when more people are available to come. She is also pushing for more community friendly City Council meetings and the expansion of the CityLine newsletter from three times per year to four.
"We want Shawnee residents to be happy," Distler said.
Distler fielded questions, comments and concerns for about an hour at Shawnee Civic Center and referred to City Manager Carol Gonzales when needed. Also in attendance were City Council Members Jim Neighbor and Eric Jenkins, along with former city councilman Neil Sawyer.
Distler explained to the group of residents in attendance that the city is spending $4.8 million on street maintenance this year, which will address 10 lane-miles of road, but will be able to spend much more over the next decade thanks to the new Parks Pipes and Pavement sales taxes. She said the city will be able to address many of the people's concerns about road repair as the city will be able to address 43 lane-miles per year beginning next year.
She also explained that the Westbrook Shopping Center, which is net to Distler's residence, remains vacant because of conflicts with the property's owner. She said the city and the city's Economic Development Council have been working diligently to fill that space. The owner, she said, is still receiving rent payments from the Price Chopper, the previous anchor tenant, and therefor has little incentive to fill the space. Distler said she is considering the use of a blight tax that would increase every year the shopping center remains vacant to provide more incentive.
"We are working like crazy to get that shopping center filled," Distler said.
Distler and Gonzales noted several other concerns raised during the meeting and promised the group that they'd look into their questions. Having an open conversations, with ideas flowing both ways, was something Distler hoped to achieve from these meetings. The goal, she has said, is to foster the conversations that can lead to better understanding and even improvement within the city and within the community.
"It takes a community coming together to make a better community for all," Distler said.