Power restored to more than 1,000 customers following early morning outage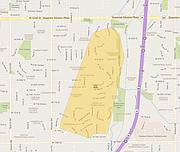 Nearly 1,250 KCP&L customers in eastern Shawnee and western Merriam were without power after a tree damaged a utility pole early Wednesday morning.
Police were called to the area on a report of power being out in the area and a power line down across Switzer Road at 3:50 a.m.
Merriam Police were first to arrive and they reported a tree limb was down across the road. Overland Park firefighters reported that a utility pole had been "snapped in half" by the falling tree.
Shawnee and Merriam officers closed the 7000 block of Switzer Road as KCP&L crews worked to repair the damage and restore power.
Kansas City Power & Light's website showed 1,243 outages in the area around 4 a.m. All but 195 customers had their power restored before 6 a.m.
Check back with this report for updates.