Water main break forces closure of Midland Drive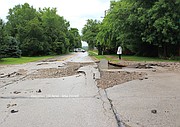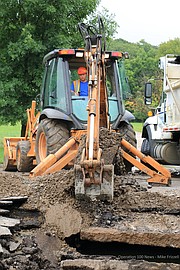 A stretch of Midland Drive will be closed through Friday following a large water main break Wednesday morning.
The city of Shawnee says the intersection at West 68th Terrace and Midland Drive will remain closed until noon on Friday, July 31, for street repairs. The city asks that drivers in that area use an alternate route.
An officer was dispatched to the area at about 5:45 a.m. to check for the break. The officer reported a "significant water main break."
Officers closed Midland Drive between 68th Terrace and 69th Street for several hours on Wednesday. The pavement near the break buckled and water ran across the road.
Neighbors said the water was moving through their yards, but was not coming inside their homes. One neighbor says he was told around 8 a.m. that his water would be turned off for at least three hours.
Johnson County Water One said the main is 16-inches in diameter. The break is only affecting about 20 homes.