Man's statement to police about baby's death doesn't match evidence, document states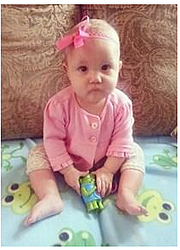 Newly released court documents in the case of 7-month-old Analeece McHenry-Widmer, who died in Shawnee, shows that the man accused in the baby's death told police a story that doesn't match the injuries that caused her death.
Aaron Peck, 24, was arrested and charged with first-degree murder and child abuse in the death of Analeece earlier in July. According to the criminal complaint against Peck, Analeece died on July 7 after being injured on July 6 in the apartment that Peck and the girl's mother shared at the Retreat of Shawnee Apartment Homes, 11140 W. 76th Terrace.
A newly released affidavit says that Peck was dating Analeece's mother. The affidavit says that the mother's other two children, aged 5 and 2, also lived with them.
According to the document, on the day Analeece suffered the injuries that lead to her death, her mother had dropped all three of the children off at a daycare and they all appeared to be in good health.
The document states that Analeece was not injured at daycare and left at about 6 p.m. when Peck arrived to pick them up.
Peck told police in a voluntary interview, according to the affidavit, that he picked the children up and returned to their apartment and carried Analeece in her car seat carrier and placed her on a couch. He told police that he left her there while he went to put away some things and the other two children went to play in a bedroom. Peck said he then removed Analeece from the car seat and placed her on the floor in a seated position, then left the room to make himself some food in the kitchen.
At some point, the affadavit says, Peck described seeing the 2-year-old child come out of the bedroom and then heard some crying. He told police that he then went to check on the baby and found Analeece lying on the floor with the 2-year-old on top of her. He told police that he got the child off Analeece and rolled her onto her back, then changed her diaper after she wouldn't stop crying.
The affidavit states that he then told police that he picked Analeece up and "her head flopped backwards and she stopped breathing." Peck told police that he rubbed her chest and she began breathing again but that she continued to go through bouts of "not breathing, going stiff, loosening up, and then breathing again" for about an hour.
Peck told police he tried to reach the mother by phone 29 times during that hour but never attempted to call 911.
He then, according to the affidavit, packed up the children and took them to the mother's aunt's house in Overland Park for help. The aunt immediately called 911.
The affidavit says the autopsy showed that Analeece had bruising under her jawline and on her neck area. She had a right subdural hemorrhage and elevated intracranial pressure, which is commonly known as a brain bleed or brain swelling. She also had retinal hemorrhaging in her eyes, according to the document.
A doctor at Children's Mercy Hospital ruled that Analeece's condition was the result of abusive head trauma and physical child abuse, not accidental trauma, the affidavit states. The doctor told police, according to the affidavit, that "a 2-year-old child could not have applied the force necessary to cause the traumatic brain injury."
With that information, Peck was arrested several days later on suspicion of first-degree murder charge and child abuse. He is being held at the Johnson County jail in lieu of a $1 million bond.