Mill Valley boys take third at 5A state track meet
The Mill Valley boys track and field team came away with a third-place finish at the Class 5A state championships on Saturday at Wichita State University's Cessna Stadium, scoring a total of 68 points to claim the team bronze.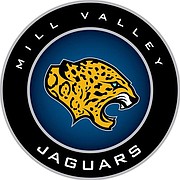 Shawnee Heights (76.50) and Leavenworth (75) were the only teams to score more points than the Jaguars. It was Mill Valley's best-ever finish at the state meet.
Mill Valley was led by Kurt Loevenstein, who claimed gold in the 800- and 1,600-meter runs with times of 1:55.13 and 4:25.17, respectively. Loevenstein — joined by Derek Meeks, Teddy Gillespie and Garret Fields — was also a member of the Jaguars' state champion 4x800-meter relay team, which clocked in at 8:06.53.
Meeks finished second in the 800-meter run (1:56.02) and fifth in the 1,600-meter run (4:31.42). Colton Bray took third place in the pole vault (14-00.00), and Tai Nguyen finished fourth in the 100-meter dash (11.05). Nguyen also took sixth in the 200-meter dash (22.33).
Cody Deas finished sixth in the 300-meter hurdles (40.50) and seventh in the 110-meter hurdles (15.53), and Deric Stephenson took seventh in the javelin (173-04). Mill Valley's 4x100-meter relay team of Chase Midyett, Cole Morris, Christian Jegen and Andrew Hicks took sixth (44.02).
The Jaguars' 4x400-meter relay team of Loevenstein, Nguyen, Gillespie and Kyal Long finished seventh (3:37.88)
SJA boys finish 14th
The St. James Academy boys finished 14th in the team standings with a total of 16 points. The Thunder scored all of its points on a pair of second-place finishes — one by Braxton Lewis in the 400-meter dash (50.45) and another by the 4x400-meter relay team (3:25.18). That team was comprised of Lewis, Jake Burgmeier, Connor Moore and Nicholas Dykmann.
---
Jon Poorman is the sports editor at The Dispatch. Follow him on Twitter at @JonPoorman for all of the latest community sports news.
More like this story