Erfurt Park construction making progress, although slow because of rain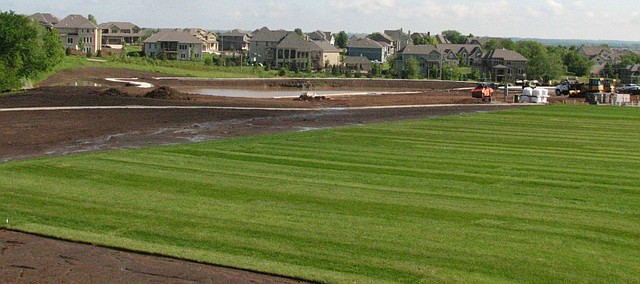 Standing atop the already built overlook hill at Erfurt Park, a person can see for miles, a beautiful view that will be even better when the park is completed this fall.
As for now, the overlook hill, built to replicate a spiral staircase in a fort in Aga Park in Erfurt, Germany, overlooks the 20 acre-park that still has a lot of work to be done.
One large grass field has been installed at the park near Gleason Road and 71st Street while another is ready to have the sod rolled out. The materials for the park's main shelter are all on site, waiting to be erected into what Parks and Recreation Director Neil Holman says will be the showpiece of the park. The one-acre pond is full and, because of the recent rain, too full for design elements to be installed.
Holman said the wet month of May and the continued precipitation in June has slowed the progress for the park, but it will still be ready by this fall when the city hosts representatives from Shawnee's sister city Erfurt.
"The rain really does slow things up, but we should be fine," Holman said.
The pond has needed to be drained a couple times because of heavy rains. Where prairie grass and a field of flowers will eventually be planted currently sits mud, and lots of it.
The fields at the crest of the hill the park is built on have made the most progress so far. The fields' irrigation system, funded by the Mid-America Athletic Sports Complex, was installed by the city and more grass will soon be rolled out.
The cement trails around the park are also mostly completed thanks to a $115,000 grant from the Kansas Department of Wildlife, Park and Tourism. The grant is also allowing the department to put back in a proposed fire place at the park's main shelter.
The park will also have a playground shelter, a nature playground, a traditional playground, two large field/event lawns and a walking path through prairie grass, flower gardens.
More like this story