Nieman Elementary teachers recall family feeling of school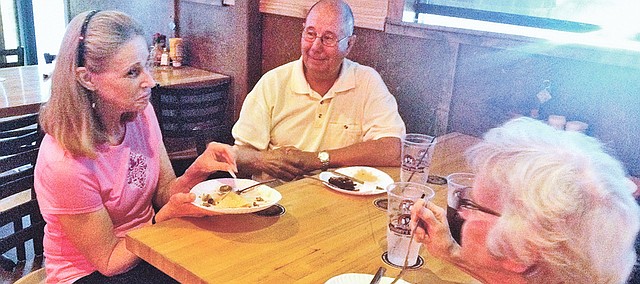 John Meyer still recalls the annual whirlwind trips to Chicago.
During his time from 1964 to about 1977 as a sixth-grade and physical education teacher at Nieman Elementary School, Meyer frequently supervised an end-of-the-year sixth-grade field trip to the Windy City. The weekend expedition consisted of an all-night train ride Friday, and then a Saturday marathon of sightseeing that included visits to no less than six Chicago landmarks, from the Field Museum of Natural History to the Lincoln Park Zoo. The group was back home catching up on what was likely much-needed sleep by early Sunday evening.
"The reason I did it is because a lot of the kids had never ridden on a train," he said. "It was a really neat trip, all that in one day."
Still, he said with a laugh, "I don't know how we did it."
That was just one of the stories and memories shared June 10 during the annual teachers reunion that retired and current educators of Nieman Elementary have been holding annually for more than a decade.
"There was a lot of people retiring and so we thought it'd be fun to kind of keep in touch with people," said organizer and retired Nieman Elementary teacher Kay Wood, or "Miss T" as she was known to her students in the more than 30 years she taught at the school.
"We didn't want to lose contact with friends and so we thought it'd be fun to kind of keep in touch with people," added fellow organizer and retired Nieman teacher Karen Olson.
The reunions started 14 years ago and were formerly always held at Wood's house. This year, the location moved for the first time to a meeting room in Johnny's Tavern in Shawnee, where about 35 retirees and current teachers of Nieman helped themselves to a light buffet-style meal and mingled with former co-workers and friends.
You could also call it a family reunion, asserted several in the room, describing the environment at Nieman over the years as being one of closeness and strong support.
"Nieman always felt kind of like a family," Wood said. "Everybody kind of watched out for each other."
That family feeling didn't just extend to the school's teachers. Shawnee Mayor Michelle Distler, who also attended the reunion, said she still gets together with her fellow Nieman Elementary classmates about every five years or so.
"We've kept that relationship," said Distler, who attended Nieman from kindergarten all the way through to her sixth-grade year in 1986. "Nieman is just a very unique environment between the teachers and the students. The students want to keep in touch with the teachers. It's like a huge family."
Close bonds between students and teachers were easy to form back then, Distler said, in the Nieman attendance area, which often felt like a small town within the large city of Shawnee.
"We have a bond and we have a common history," she said of herself and her classmates. "We all knew the same teachers and we all had the same friends. We grew up in the same neighborhood. It's just a great bond."
Also contributing to the family environment, both Wood and Distler said, was a more innocent time when nobody would think twice about a student helping a teacher grade papers or a teacher taking a couple of students to a Royals game after school, which Wood recalled doing on one occasion in her early years teaching at Nieman.
"Other schools don't have this," Distler said as she sat and talked with several of her former teachers, giving them much credit for forming her as a future mayor of Shawnee. "I think it's magical."