SMNW

student suffers medical emergency at school's swimming pool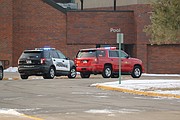 A 15-year-old male student at Shawnee Mission Northwest was taken to Shawnee Mission Medical Center this morning after suffering a medical emergency during a physical education class at the school's swimming pool, the district says.
Emergency responders including Shawnee police, Johnson County Med Act and the Shawnee Fire Department received an emergency call at 8:05 a.m. Monday morning in regard to an unresponsive student, said Maj. Dan Tennis with the Shawnee Police Department. The boy's family, along with parents of students in the physical education class with him, were notified of the emergency immediately, according to the Shawnee Mission School District.
"The school resource officer, a Shawnee police officer, provided immediate first aid at the scene until emergency personnel arrived," Tennis said. "The student was medically treated and taken to the hospital."
Emergency radio dispatch said the boy was in the pool when the emergency happened. Shawnee Mission Northwest Principal Lisa Gruman sent a broadcast email to parents Monday morning alerting them to the situation and thanking the teachers, students and emergency responders for their quick response.
"I appreciate the quick response of students, staff, our school nurse, and the school resource officer who acted quickly to recognize an emergency and offer first response while awaiting assistance from police and emergency medical responders," Gruman said.
-Operation 100 News contributed to this report
More like this story