33rd Annual St. Patrick's Day Parade this Sunday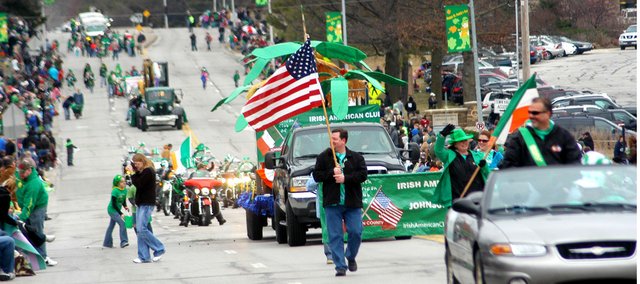 Shawnee — An old Irish saying goes: If you're lucky enough to be Irish, than you're lucky enough.
Well in Shawnee, you don't have to be Irish to be lucky enough to attend the 33rd annual St. Patrick's Day parade and the festivities to follow.
This year's parade is to be held this Sunday, Mar. 15, in downtown Shawnee and the theme is "Forever Be Irish."
The parade will be led by this year's Grand Marshals Neal and Donna Sawyer and the floats that follow will be in the running for several categories and cash prizes. Entry forms are available at City Hall, and at www.irishamericanclub.org. This year's $10 entry fee will fund a donation to the Shawnee Police and Fire Department Heroes Pull, which benefits Kansas Special Olympics.
"It's a great event that brings in the Spring season and every bit of it is fun," Donna Sawyer said.
Parade line-up begins at 11:30 a.m. at Johnson Drive and Monrovia Street. The parade will begin at 1 p.m. and will proceed to Nieman Road. The awards ceremony will be held immediately after the parade at the Knights of Columbus Hall, 11221 Johnson Drive, where awards for Best Overall float, the Tim Roche Spirit Award/Best Showing of the Green, Best Music, Best Kids' Entry, Best Family/Irish Heritage Award and Best Vehicle will be awarded.
Restaurants along the parade route will be open for brunch and an Irish corned beef and cabbage lunch will be served at the Knights Hall. Attendees can also purchase parade t-shirts along the parade route. The parade is sponsored by the Irish American Club of Johnson County and the Shawnee St. Patrick's Parade Committee.
Following the parade will be the 2015 Heroes Pull to benefit the Special Olympics of Kansas at 2:30 p.m. at Splash Cove, 5800 King Street.
Team check in/weigh in begins at 1:30 p.m. The Heroes Pull pits teams against each other in friendly competition to see who can pull a Shawnee Fire Truck and a Lenco Armored Tactical Vehicle. Awards are given for the three fastest teams and to the team that raises the most money for the event.
Finally, you can test your luck, whether you're Irish or not, at the 27th annual Duck Race.
Held at Herman Laird Park for the third year, the Duck Race is family friendly race that sees rubber ducks overcome rapids and obstacle on a water course on their path to the finish line. For a $5 donation, attendees can pick up a duck ticket prior to the race at Jake's Place, 12001 Johnson Drive, and on race day at the Knights of Columbus Hall. Each duck could be packing $1,500 of green, organizers say.
More like this story