Shawnee home damaged by late-night fire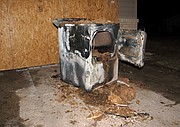 A dryer is being cited as the cause of a late-night house fire in Shawnee.
Firefighters were called to 6713 Stearns around 10:30 Monday night.
Shawnee Fire Marshal Corey Sands said, "It was a dryer fire that quickly caught the garage on fire."
A contractor who was boarding up the home said the fire caused extensive damage to the garage.
"Shawnee Fire knocked it out quick, it doesn't look like there is any fire damage to the living areas," he said.
The homeowner was not injured and is receiving assistance from a neighbor and the Red Cross.
No other details have been released.
More like this story