Face to Face: Neal and Donna Sawyer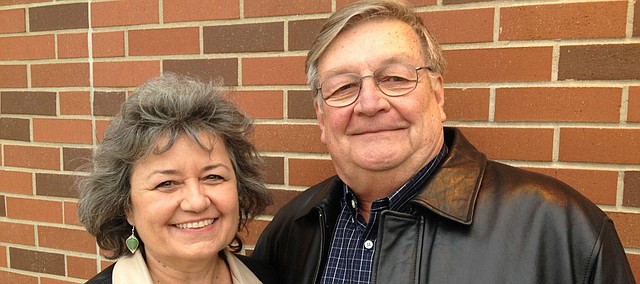 Names: Neal and Donna Sawyer
Born: Donna was born in Butler, Mo., and Neal was born in Gardner.
Family: They have four daughters: Laura, Shannon, Stephanie and Emily.
Occupations: Donna is the Specifications Editor for BRR in Merriam, Neal is retired from Kroger and is a Ward II Shawnee City Council member.
Dream job as a child: Donna said she always wanted to be a rock star, even though she says she doesn't have the best voice.
"That's why it was my dream job," Donna laughed.
Neal said Donna has the best voice of anyone in the family. Neal said he grew up as a child wanting to be a farmer but said his goals changed after high school and he said that he's "basically lived a dream."
Digging deeper: Neal and Donna Sawyer have been named Parade Grand Marshals for the 2015 Shawnee St. Patrick's parade on Mar. 15. In the role of parade grand marshals, the Sawyers will lead the parade festivities.
Both have been members of the Irish American Club of Johnson County for more than a decade and Donna is currently the secretary of the club.
"It's really an honor that the club chose us," Neal said.
"We just try to give back and keep in touch with our Irish heritage," Donna said before adding, "And we try to have some fun."
The Sawyers have long been an integral part of the Shawnee St. Patrick's Day celebration. For years, Neal has helped the Irish club build its float in the parade and Donna has helped organize the entire event, from the reception for the Sister Cities dignitaries to the Heroes Pull.
"To the two of us, that's what we believe being part of the community is, volunteering and helping with events like this," Neal said.
Neal and Donna said that the St. Patrick's Day parade is their favorite event of the year in Shawnee. Even though previous years' weather conditions haven't been optimal, people always come out in their green colors to enjoy the sights.
"Every bit of it is fun," Donna said.