Huge crowds turn out for St. Patrick's Day Parade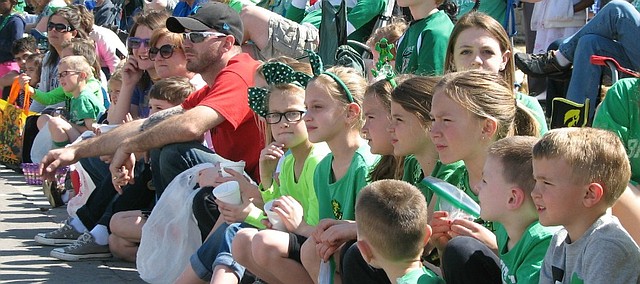 Photo Gallery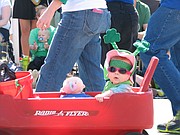 2015 St. Patrick's Day Parade and Heroes Pull
A look at this year's St. Patrick's Day Parade and Heroes Pull on a beautiful day in Shawnee.
Thousands of people wearing all the green they could muster lined Johnson Drive Sunday afternoon while basking in a recent rarity at the annual Shawnee St. Patrick's Day Parade: Sunshine.
For the 33rd annual parade, the sun made a bright and shining appearance and was the topic on most people's minds.
"It can't get any better," said JJ Miller Jr., a member of the Shawnee Sister Cities Committee. "This is the biggest turnout I've seen in a long time."
For the past four years, the parade has struggled with wet and cold weather. On Sunday, there was only sunshine and smiles.
Not only did the crowd come out for the parade, but record numbers attended the Heroes Pull that followed and the annual Duck Race.
A record 18 teams registered for this year's Heroes Pull, a fundraiser organized by the Shawnee and Merriam police departments for Special Olympics of Kansas. Merriam police officer Jeremiah Waters said the event had raised more than $6,000 as of Sunday and more was still to be counted from sponsors this week. The event's goal is to raise $10,000 for Special Olympics of Kansas. Waters said that the event usually only sees about 10 teams register to pull the Shawnee fire truck and armored vehicle. Waters said the warm weather probably had a lot to do with the additional teams.
"This is the first year we've been in shorts and T-shirts doing this," he said.
The 27th annual Duck Race followed the Heroes Pull and raised money for the Shawnee Sister Cities Committee and saw hundreds of rubber ducks fly down a man made water course in the Town Hall parking lot. Susan Washick won this year's race followed by Kevin Fern and Grace Denton. The Duck Race is the Sister Cities Committies largest fundraiser of the year and funds their annual events and costs for bringing dignitaries to Shawnee.
This year, Damien Stack and Tom Walsh visited from Listowel, Ireland, and marched in the parade. Stack has visited Shawnee over the St. Patrick's Day holiday for the past 20 years while Walsh has visited for the past decade. Even Stack had to marvel at the 70-degree weather while walking down Johnson Drive in the parade.
"It's amazing to be here," Stack said. "And even better when the weather is like this."
More like this story