Face to Face:
JJ

Miller Jr. (

JJ

Jr.)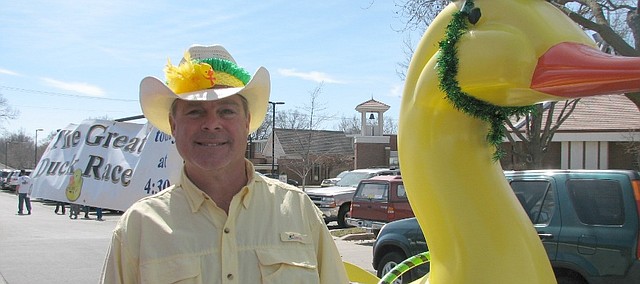 Name: Jonny Joe Miller (JJ Jr.)
Born: Shawnee
Family: Wife Monica and daughter Miranda, who is a freshman at Kansas State University
Occupation: Mechanical Contractor (HVAC)
Dream job as a child: JJ Jr. grew up racing sprint cars but he said he never saw himself racing professionally. Instead, he saw himself taking over the family business of owning a liquor store or bar.
"I always thought I'd own a bar," JJ Jr. said.
His family owned the largest liquor store in Kansas while JJ Jr. was growing up. As he got older, however, JJ Jr. decided he wanted to go into mechanical engineering and eventually found himself working in mechanical contracting.
Digging Deeper: For 27 years, JJ Jr. and his family have been prominent organizers of the St. Patrick's Day festivities in Shawnee, particularly with the Duck Race. JJ Jr.'s father JJ Miller, and he started the event in the creek that runs under Nieman Road where the Smoke Shop currently stands. The rubber ducks would start the race on the west side of the street and go through the tunnel under the road before finishing on the other side. JJ Jr. would hold back excess water while children and others would run around seeing if their duck had won.
"It was always weather permitting and it was always really cold," JJ Jr. laughed at this year's St. Patrick's Day parade.
So, three years ago, the event was moved to the parking lot near Town Hall. Today's system is one that is man made and 100 percent controllable by the Shawnee Fire Department and their water hoses. The effort to move the event was organized by JJ Jr., City Manager Carol Gonzales and the fire department, among others.
"It's controllable now and it's so much fun," JJ Jr. said.
At this year's parade, JJ Jr. unveiled the new Duck Race go-cart. The parade highlight was a large yellow duck paddle boat mounted on one of JJ Jr.'s nephew's old go-carts. The contraption was built by JJ Jr. and Alan Willoughby and demonstrated the fun spirit behind the entire event.
More like this story