Shawnee's Neighborhood Painting, Inc., named as a top small business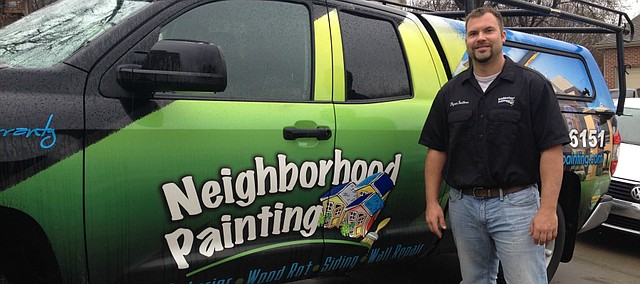 Shawnee — Ryan Toelkes' innate entrepreneurial spirit has created a booming small businesses in Shawnee and it all began with some strokes of paint and a lot of ground work.
About 13 years ago, at the age of 21, Toelkes founded Neighborhood Painting, Inc., in Shawnee by himself. He said it was a realization of two passions he had. He loved working with houses and had already gotten a real estate license by the age of 20, and he loved working with his hands.
"I've always liked taking something and restoring it, fixing it up," Toelkes said.
Fastforward and his company was recently named one of Kansas City's top small businesses as a recipient of the 2015 25 Under 25 Award, which goes to the city's 25 best small businesses with under 25 employees. Companies from around the metro, about 1,400 of them, were in the running for the award. Neighborhood Painting, Inc., was one of two Shawnee companies to be named on the list, along with The Land Source & Evergreen Real Estate Services.
Today, Neighborhood Painting has 17 full-time employees and services residential and commercial buildings anywhere within 40 minutes of Shawnee. But the road to success was a long and difficult one for Toelkes.
When he started the company in 2002, all he had were his painting skills and a few fliers. He would rely on word-of-mouth advertising and his reputation to grow his business. For the first couple of years, he was only able to paint several houses per summer and save up enough to make it through the winter.
"It has been a bumpy road, but I learned my way," Toelkes said.
And the Shawnee Mission South graduate did so without a college degree or any formal leadership or business management classes. By 2006, Toelkes had enough work that he hired his first five-man crew. While painting during the day, Toelkes would also make appointments in the evenings and weekends to bid future clients.
"It all made for long work days," Toelkes said.
As his work load grew, Toelkes was careful not to expand too quickly. He said he deliberately wanted to grow his company slowly in order to maintain the quality of his work.
"I never wanted to grow fast and jeopardize that," he said.
It wasn't until 2009 that things started clicking and Neighborhood Painting became close to what it is today. He hired a second crew that year and created the business model that Toelkes says is unique to the Kansas City area. He separated his employees into two crews. One that handled all of the preparatory work on a project including a wood rot preparation crew, carpenters and surface preparers. The second crew was his painting crew.
This strategy allows his customers the chance to investigate the company's work before paint is ever put on the side of a building. After the preparation crew finishes their work, Toelkes lets a week pass before the painting crew goes out to finish the job so that each customer can have a chance to investigate each step of the process.
"All of my customers are confident that they're getting the best quality work," Toelkes said.
Today, Toelkes' 17 employees are able to work year-round and he has assembled a fleet of two Toyota Tundras, a moving truck and three trailers for all of his equipment. He uses PPG Paints, a local distributor located at Shawnee Mission Parkway and Neiman Road for all of his paints, and he is looking to find a permanent commercial space in Shawnee in the coming year. He also hopes to expand again soon by doubling his crew numbers so that he can have two preparation crews and two painting crews.
For more information on Neighborhood Painting, visit the company's website at KCNeighborhoodPainting.com.