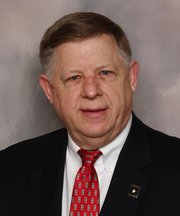 Name: Eric Jenkins
Age: 66
Occupation: Retired US Army Colonel (Active and Reserve 34 years) and Retired manager of the Federal Emergency Management Agency (FEMA, 30 years). Currently President of PRMIT Consultants, an Emergency preparedness consulting LLC.
Family: Wife Anne, 5 children: Eric, James, Laurie, Cristin and Michael and 7 Grandchildren ages 3-16
Years lived in Shawnee: 28
Previous political experience: Elected to Northwest Advisory Board to the Shawnee Mission Board of Education, served on Johnson County Charter Commission
Other community service: 20+ Years served on the Shawnee Planning Commission as a Commissioner, President of Pflumm Woods Homeowners Association
Campaign website: www.EricJenkinsforShawnee.com
Questions
Why are you running for a seat on the Shawnee City Council?
I am dissatisfied with the stewardship of our taxpayers funds by our elected leadership. I feel there is a climate of exclusion and discouragement of citizen involvement in the governing process. This is based on observations at City Council meetings. On two occasions I offered, free of charge, to undertake projects for the city that may have been very beneficial to the community. In both cases, the majority of the City Council showed little interest in citizen involvement. Further, I believe that Shawnee has not worked hard enough to support businesses. Examples such as Westbrooke Shopping Center really illustrate such shortcomings. I feel strongly that the emphasis of Shawnee government should be public safety, quality infrastructure, promote a quality business climate and create a positive mood for citizen involvement in our community.
What special qualifications would you bring to this office?
I have a good knowledge of Shawnee due to my 20 year involvement with the City Planning Commission. I am an experienced leader with extensive leadership training and assignments as a career Army officer. I am well educated with a Bachelor of Arts and a Masters of Arts and also a graduate of the prestigious US Army War College. My experience at FEMA required integration of programs and emergency management concepts at the Federal, State, County and Local level. This understanding of the interaction of these levels of government prove invaluable in working towards positive ends when substantial intergovernmental and interagency cooperation is required to meet desired goals and objectives. I had many opportunities in exercising these skill sets when serving in key roles in responding to State/multi-State disasters. Being an effective coordinator, I served as Chair of multi-State emergency response committees and commissions and even a national radiological response committee. I possess extensive training and experience in planning, analysis and believe strongly in looking closely at proposed ordinances or other legislative actions to determine potential second and third order effects (sometimes referred to as ripple effects). This can be beneficial in minimizing the negative effects of a desired proposal.
What are the three most important issues facing the city and how would you address them?
Maintain a quality city: We need to focus efforts in older parts of Shawnee in order to ensure that the entire city is a beautiful, safe place to live. This requires that we look hard at upkeep and maintenance of our city's infrastructure. This of course, requires capital investments and there is the reality of paying for it. That is why it is so important to develop and maintain a positive climate and strong working relationship with our business community. Their success is our success. It is essential to address issues like vacant shopping centers and at the same time have a active outreach program to seek new business partners to come to Shawnee.

Develop a transparent and inclusive government environment: The lack of citizen involvement in their community governance is illustrated when it is time to go to the polls. Participation in spring elections often hovers in the 13%-15% range. It is easy to blame the voters for being apathetic, but why are they apathetic? I would submit that perhaps they don't feel included. I feel that instead of seeking to include our citizens, there is an leadership climate to minimize our citizens involvement. We demographically have a high level of education and quality career oriented residents in Shawnee. Maybe we can do more to get greater involvement with them and as it goes, as people's investment in their community evolves, so too does their interest and participation. I believe we can put together citizen task-forces and panels to seek ways to encourage involvement by those who live in Shawnee.

Live with/in our means: The answer to every problem should not be automatically to push for additional taxes. Taxpayers are being worn out by the continually increasing demands placed upon their family income. In many cases these incomes have shrunk during the recession and not rebounded. The only sector that seems to be protected from these down times is our government at all levels. If a problem arises, the easy fix is to raise taxes and make the problem go away. This approach works most of the time but we all have to pay the bill. It is time to be more aggressive about living within our means. Seek alternative solutions, constantly review older programs to determine if they are still required, grow the tax base and as part of leadership, be a good steward of the money entrusted to us by hard-working, hard-pressed citizens.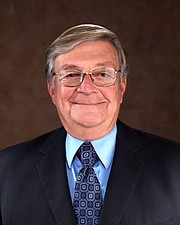 Name: Neal L. Sawyer
Age: 70
Occupation: Retired from Kwik Shop Inc. a Division of Kroger Co.
Family: My wife Donna and I have been married for 40 years and we have four daughters, Laura, Shannon, Stephanie and Emily.
Years lived in Shawnee: 50
Previous political experience:I have been on the Shawnee City Council since 2002.
Other community service: Co-chair of RTS (Rebuilding Together Shawnee), Shawnee Downtown Partnership board, Downtown Business Association, Shawnee Rotary, St. Joseph Church, and Knights of Columbus.
Campaign email address: talkward2@aol.com
Questions
Why are you running for a seat on the Shawnee City Council?
Out of the 15 cities in Johnson County, Shawnee has the 4th lowest property tax mill levy. I would like to continue to work with the governing body and city staff to provide the citizens of Shawnee the vibrant city they want and deserve while keeping taxes low. I am proud that Shawnee has a reputation as a city that provides its citizens with more while spending less. Over 50% of our budget funds police and fire department needs. Public safety will continue to be one of my priorities.
Another reason I am running is because of the passage of the Parks, Pipes and Pavement sales tax initiative. The voters have provided the revenue to fund street, curb and sidewalk improvements and I want to be a part of the selection process to identify which projects are tackled first.
What special qualifications do you bring to this office?
I am an attention to detail person and I ask the tough questions when it comes to budgeting. I never vote to pass something, without looking at the long term effects for the city and its residents. There has to be a long term plans and goals and then you have to measure your results. I am willing to support any idea that is beneficial no matter who originated the idea.

What are the three most important issues facing the city and how would you address them?
One major priority is to implement the pavement improvement plan with funds generated from the recently passed Pavement sales tax initiative.
The collection of the sales tax for the pavement repair and upgrade will begin on April 1st of this year. There is committee of Citizens being formed to help with the street selection process. Since this was passed by the entire city we have to make sure that it is equitably implemented throughout the city, while still focusing on the areas with the greatest need.


Shawnee's storm water system continues to need improvements. Over the last couple of years we have had some major storm water pipes under streets that have failed. Two major collapses last year were at 65th street and on Johnson drive. We need to get in front of this issue rather than be behind the curve. By examining the pipes using underground cameras, we can identify weakened areas before they fail. These areas can be repaired at a lower cost than replacing the entire pipe after failure.
We must continue to find creative ways to spur economic growth. We need to reach out to developers who will bring the type of retail and commercial development our citizens want. Courting developers meant not just offering incentives, but also creating an attractive community by maintaining a high standard of streets, parks, and public safety. We also need to continue to develop long range planning for Downtown Shawnee and other established areas to keep them fresh and vibrant.