Kansas City Connection: Library activities go way beyond books
In addition to being an excellent place to do research, check out books or attend film and public speaking events, the Kansas City Library's Central Branch, located in the First National Bank building at 10th and Baltimore, also functions as something of a museum.
Currently, the Central Branch is featuring several different exhibits focusing on regional history, as well as the inaugural art exhibit in the library's new Rocky and Gabriella Mountain Gallery, which opened this weekend.
This impressive new second-floor exhibit space spotlights the sculptures, mosaics, stained glass and artwork of its namesake donor, Gabriella Polony Mountain.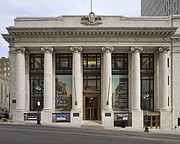 The 96-year-old artist emigrated from Hungary to America in 1951 with her husband, their luggage and $120 to their name before establishing a successful career in Kansas City as an interdisciplinary artist.
The exhibit, "Gabriella Polony Mountain: A Life in Art," will be on display through Sept. 27.
Other new exhibits include "Eminent Domain," Matt Rahner's photographic documentation of the dismantling of an African-American neighborhood in Kansas City that was torn down to make room for a new police station and crime lab.
The ongoing exhibit "Justice Postponed is Justice Denied: Lucile Bluford and the Campaign for Educational Equality" tells the story of the African-American journalist whose 1939 battle for acceptance to the University of Missouri's graduate program in journalism laid some of the groundwork for the Supreme Court's landmark Brown v. Board of Education decision in 1954.
Also on display for two more weeks is the "Cowtown: History of the Kansas City Stockyards" display, which employs a historical treasure trove of photographs, blueprints, drawings and documents (all discovered in a West Bottoms storage room in 2008) to tell the story of Kansas City's meat-powered economic engine of decades past.
While you're at the downtown library, stop by the Nine Muses Library Coffee Shop on the first floor between 9 a.m. to 3 p.m. for coffee drinks, fresh pastries or one of the fresh salads or wraps. For more information about library events, hours and which exhibits are located in which gallery, visit kclibrary.org.
Easter activities
Next weekend is Easter and wouldn't be complete (or at least not as much fun) without an egg hunt or an audience with the Easter Bunny. Children can visit the Easter Bunny at several locations this weekend, including Crown Center, where he will be posing for photographs with kids from noon to 4 p.m. Saturday and Sunday.
From 10 a.m. to noon on Saturday, Science City at Union Station will hold its annual Easter Eggstravaganza, which includes a massive Easter egg hunt, arts and crafts, an Easter egg drop and photos with the Easter Bunny.
That same day at Powell Gardens in Kingsville, Mo., the whole family is invited to enjoy an all-you-can-eat pancake breakfast as well as a massive outdoor Easter Egg hunt led by the bunny himself. The egg hunt is included in the park's regular admission, while the pancake breakfast is $17 each for adults and $12 for children, reservations required. A more genteel brunch will be served on Sunday at 11 a.m. and 1 p.m. at Cafe Thyme for $30. To reserve a spot for either Saturday's breakfast or Sunday's brunch, visit powellgardens.org or call Linda at 816-697-2600.
Sporting KC
Following its 2012 U.S. Open Cup victory and 2013 Major League Soccer Championship, Sporting Kansas City's 2014 season and nonexistent playoff run came as something of a disappointment.
The 2015 squad has yet to earn a win in its first three games, but with all-stars Matt Besler and Graham Zusi back full time from World Cup play, the return of dynamic midfielder Roger Espinoza from a stint in England and several key offseason acquisitions, the season should be an exciting one.
It's also the club's first year in the Western Division, where it will face stiff competition from perennial contenders L.A. Galaxy, the Portland Timbers and the Seattle Sounders.
Next Sunday, the boys in blue face off at Sporting Park against their old rival The Philadelphia Union in a 6 p.m. match-up. For ticket information and to see a full schedule, visit SportingKC.com.
— Lucas Wetzel is a writer and editor from Kansas City, Mo. Know of an upcoming event in Kansas City you'd like to see featured in Kansas City Connection? Email us about it at kcconnection@ljworld.com.
More like this story