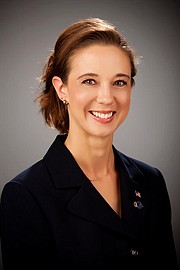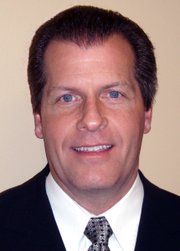 Shawnee — There's something different about this year's mayoral election.
While the two candidates, Michelle Distler and Dan Pflumm, campaign to replace current mayor Jeff Meyers, they are doing so respectfully. No attacks have been made and both two candidates are happy to respect each while trying to do what's best for Shawnee.
"We have two people running for the seat and not against each other," Distler said at a candidate forum Thursday evening. "I wish all campaigns ran like this."
Distler and Pflumm spoke about their priorities and agendas if they are to be elected mayor on April 7 at a forum presented by the Johnson County League of Women Voters at St. Luke's Episcopal Church in Shawnee.
Even when asked why their skill sets made them the better candidate for mayor, the candidates hesitated to put down the other.
"Well that's tough, I like Mr. Pflumm," Distler said before highlighting that she has hundreds of volunteer hours around the city that demonstrates her service to Shawnee.
"I don't volunteer as much as Ms. Distler and I thank her for that," Pflumm said when it was his turn to respond. He added that he does volunteer at his church, St. Joseph's, and has ran a company for more than 20 years. "As far as working hard and doing the right thing, I know I can do that."
The election has carried this respectful tone ever since the March primary in which Jeff Vaught and John Segale were eliminated and is something Shawnee hasn't seen in several of it's past elections. Attacks aren't being thrown around, questionable campaign practices haven't been brought up and the candidates tend to agree on most of the same issues.
But only one can win and become mayor of Shawnee, and there are some differences between the candidates.
Where Distler promises a more open, transparent and user-freindly city government that is responsive to its citizens, Pflumm says he will use his years of business experience and long family history in Shawnee to sell the community and redevelop areas of the city as well as bring new development to the city.
"My record already shows that I'm very responsive to constituents," Distler, the currently serving as a Ward IV city council member. "I'm always going to listen to them."
Distler also said development and redevelopment of Shawnee business is key and she spoke to one of the key issues of the candidate forum: tax incentives. Incentives such as Tax Increment Financing that were proposed for the Shawnee Landing site that fell through last month. Both candidates agreed that tax incentives are essential to bringing in new development and without those incentives, Shawnee will continue to be left behind cities like Merriam and Lenexa in regards to commercial development. Distler has called incentives a "necessary evil."
Pflumm said developments like Shawnee Landing are key to the future of Shawnee and the city should continue to look into similar projects.
"That particular project is one that would have expanded our tax base and helped the greater good of the city," Pflumm said.
Pflumm's campaign preaches "more growth, less tax" and he said that he would, as mayor, do more to prioritize how the city spends citizens' tax dollars.
"I think we can do a better job on our needs like police, fire and roads, rather than our wants," Pflumm said.
Neither candidate gave specific examples of how they would specifically prioritize the city's budget at Thursday's forum, but Distler agreed that the city's impact fee and new sales tax for street improvements will need to be a priority.
"Quality roads are as important to economic development as tax incentives are," Distler said.
Both candidates are lifelong Shawnee residents. Pflumm emphasized his family's 150-year history while Distler said her parents have owned a small business in downtown Shawnee since 1987.
"I really care about Shawnee," Pflumm said. "We do a good job right now in the city, but I think we can do better."
In the spirit of both campaigns, Distler closed her forum statements emphasizing collaboration as the best way to move Shawnee forward.
"It's not about thinking alike, it's about thinking together," Distler said.