Man arrested following hit and run on Shawnee Mission Parkway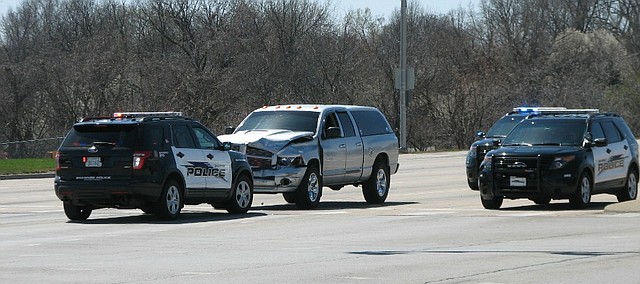 Shawnee — Shawnee police arrested a 38-year-old man following a hit and run involving three other cars at Shawnee Mission Parkway and Quivira Road Monday afternoon.
Capt. Mitch Brim said the man was taken into custody at 1:45 p.m. several blocks away at the corner of Shawnee Mission Parkway and Pflumm Road. Five police units could be seen blocking the left hand turn lanes off eastbound Shawnee Mission Parkway where the man was taken out of his silver truck and placed in handcuffs. Brim said no charges have been filed against the man as investigators are waiting on results of a blood test for a potential DUI. When those results are returned, the man could also face potential charges for the hit and run, Brim said.
According to dispatch reports during the crash, witnesses told officers that the suspect truck was seen driving eastbound on 70th Street from Quivira going into a neighborhood. The witness then returned to the crash scene to give their information. An officer reported that the truck was "trying to elude the witness," according to radio reports. The multi-vehicle accident at Quivira Road did not result in any major injuries.
Then at 1:23 p.m., a traffic unit east of Nieman Road, spotted the suspect truck eastbound on Shawnee Mission Parkway and followed it towards Interstate 35, according to the police dispatch. That officer attempted a traffic stop somewhere in the area of Shawnee Mission Parkway and Interstate-35. The truck reportedly failed to yield and Shawnee officers reported that the truck was last seen southbound on I-35 passing 75th Street and was "all over the road."
A different Shawnee officer reported seeing the same truck on northbound I-435 near Midland Drive at 1:35 p.m. He reported the truck exited northbound I-435 to eastbound Shawnee Mission Parkway.
Before the officer attempted a stop, the suspect truck stopped at the red light on Shawnee Mission Parkway, in the lane to turn north onto Pflumm Road. Witnesses reported seeing a brief struggle between the man in his truck and the responding police officers but Brim said he did not resist arrest.
Brim said that once the suspect's blood tests are returned, the man could be summoned to appear for any potential charges. Brim said results on such tests can take months to be returned by the Kansas Bureau of Investigations.
- Operation 100 News contributed to this report