Shawnee host families give lasting cultural experience through exchange program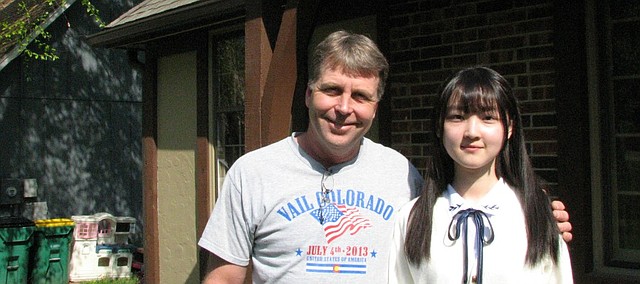 When Ran Ye arrived in Kansas almost two years ago, she hardly knew any English, but that's why she chose to come to Kansas.
She was just 16 and had never left her home country of China without her parents. Through a mandatory foreign exchange study program in her home town of Wen Zhou in eastern China, she knew she was going to study in the United States. She had a list of options including some of the larger cities in the country, but she chose the Kansas City area because she wanted to truly be somewhere where she could be fully emerged in the English language. Larger cities, Ye said, would've put her in an environment where she would be surrounded by other students and residents who speak her same language.
She is now a junior at Bishop Miege High School in a program called GP Homestay and speaks English fluently. The program is different than many other foreign exchange programs in that Ye lives with her host family in Shawnee for a period of years whereas other programs typically have a student visit a local school for one, maybe two semesters.
Ye lives with Scott and Kathy Meyers of Shawnee and will remain with them until she graduates from high school. She is one of seven students from China in the program who are studying at the school, a number that still allows her to practice her English and feel part of American culture.
"You get to experience a lot more, you become a part of it," Ye said.
Ye loves studying math and is part at the reading club at Bishop Miege. She also enjoys shopping at local stores with friends as well as spending time with her host family. She said one of the things that really helped her language skills was the reading club at her school.
"It's good for me to read and talk with people in English," she said, "and I can make more American friends."
Since moving to Shawnee, Ye and her host family have made many trips around the country including visits to the Grand Canyon and trips to California, Texas and New Mexico. The Myers family has now hosted four students through GP Homestay. Scott Meyers said they have hosted students from Italy and Austria. They have also hosted students through the Rotary Club foreign exchange program.
"My wife and I love kids anyway so we really enjoy doing this," Meyers said.
Meyers said they also soak up a lot of cultural knowledge from their visiting students. With Ye, the family has exposed each other to their different culinary cultures and have discussed their different religions of Buddhism and Catholicism.
Ye said that when she first got here, she was turned off by the various types of food. She wasn't used to the American style of barbecue and had never eaten Mexican food. While her initial reactions were negative, almost all of them have changed over time.
"At first, I was like, 'Wow, gross,'" Ye said about Kansas City barbecue. "Now it's one of my favorite things."
Ye wants to study computer science in college in the United States and is looking at a number of colleges. Now that her language skills have improved dramatically, she said she would be comfortable going to a larger city to experience more things.
Scott Meyers said it is always hard to say goodbye to the students after forming lasting bonds. But the Meyers' have kept in contact with all of their former students and have even planned reunions.
"We are even planning a Europe trip to visit our former students," Scott Meyers said.
Residential Coordinator for GP Homestay Rosalind Conner said host families sign 10-month contracts through the program but that most contracts are renewed and last more than two years.
"The students' intent is to finish high school in the U.S., and that mean a longer commitment than typical transfer students," Conner said.
Of the seven students in the program this year, five are being hosted by Shawnee families. Conner said the program is expecting four to five more students by August and they are looking for more host families. For more information about GP Homestay, visit gphomestay.com.