Street Improvement Program task force begins meetings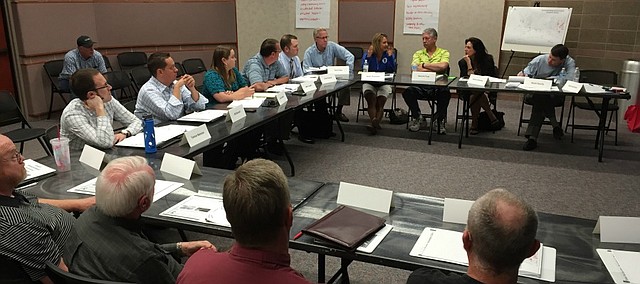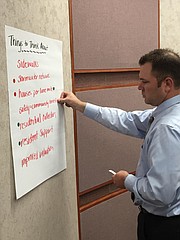 Shawnee — The new 12-member Shawnee Street Improvement Program task force will be looking at traffic numbers, roads near schools and parks and other factors as they create a guide to select residential streets to repair using $9.7 million in sales tax revenue.
The money comes from a one-eighth-cent sales tax dedicated to the street improvement program, totaling $9.7 million. Another two-eighths of a cent of sales tax will be spent on mill and overlay road resurfacing projects chosen by the city and worth more than $25 million over the next 10 years.
City taxpayers approved the three-eighths of a cent in tax in November 2014.
Some task force members were surprised to learn that the $9.7 million will allow improvement for just four lane-miles of road, or about 16 average city blocks. Improvements to each lane mile are estimated to cost $2.3 million. The task force will focus on residential streets that currently don't have curbs or sidewalks.
While four lane miles might not seem like a lot, Transportation Manager Mark Sherfy said it is better than nothing, which is what the city has been dealing with for years.
"It's a start," Sherfy said. "I'm happy to say we are making a start. We've never really had, in the last 25 years, a street maintenance program adequately funded at the city."
The city is responsible for maintaining 780 lane miles of streets, which costs nearly $7 million a year. Without the new sales tax, the city's available funding for the maintenance program was just over $4 million per year. Current funding comes from the state gasoline tax, a portion of the landfill impact fee, and the city's general fund.
The new sales tax for street maintenance went into effect on April 1 and will expire on March 31, 2025. Over that 10-year period, the city projects it will be able to resurface 435 lane miles of streets, up from just 185 lane miles under previous funding levels.
Each of the 12 task force members appointed by former Mayor Jeff Meyers expressed appreciation that they could have a voice in determining which residential streets in the city would see the first round of repairs. They deliberated on some general strategies at their first meeting on Thursday and voted on which factors would be most important in determining which streets to address.
As for strategies, the group discussed options for targeting specific neighborhoods, spreading the work out around the city, focusing on previously identified projects through the city's capital outlay program or focusing on residential collector streets.
Task force member Sara Somsky, a seven-year Shawnee resident and geotechnical engineer, said the board could take a "shotgun or a rifle approach." The rifle approach would address one small area with a high impact, at the risk of making the rest of the city feel excluded. Or, the group could take a shotgun approach and spread its impact around the city in smaller projects, at the risk of making their work so spread out that residents don't notice the projects.
"I personally think if we spread out the work, it's going to be hard for people to see what impact we have made," said Matt Laipple, a civil engineer who has lived in Shawnee for 13 years.
The group, which has three representative from each ward in the city, also voted on which factors could determine which streets become priorities. Those factors included leveraging outside funds from the county and state, a street's proximity to schools and parks, safety, economic impact, traffic volume, utilities and bike lanes.
Over the next three months, the task force will meet two more times at the Shawnee Civic Centre to iron out the criteria to present to the City Council in July. The projects that the task force recommends to the city likely won't begin until late 2016 or 2017.
The task force's next meeting is scheduled for May 21.