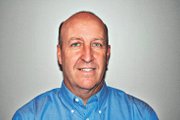 If some De Soto school district patrons have their way, Scott Hancock will no longer have a seat at the board table come next school year.
An effort to get Hancock recalled from the office to which he was elected in 2013 began only weeks after a March 9 board meeting. At that meeting, which was so well-attended it was moved to De Soto High School's theater, a number of patrons and teachers placed the blame for the resignations of Superintendent Doug Sumner and Director of Teaching and Learning Jessica Dain at the feet of one board member. The board member in question remained unnamed at the meeting, even after emails containing second-hand accusations of bullying and sexual harassment by Hancock had been circulating among district teachers, staff and patrons for months prior, according to messages obtained by The Dispatch under the Kansas Open Records Act.
"There are multiple reports of inappropriate behavior by a specific board member. I respectfully ask for your resignation by this Friday," parent Anh-Nguyet Nguyen said at the March 9 meeting to an eruption of applause. "Otherwise, I will start the process necessary for recall."
As one of 17 sponsors of a recall petition approved by the Johnson County Legal Department on April 7, Nguyen is now practicing what she preached in March. In the petition, Hancock is charged with sexual harassment and with violating federal laws under the U.S. Equal Employment Opportunity Commission.
"He dismisses and belittles input from female administrators and board members, addressing a female administrator as 'missy' and 'little girl,' the petition states. "He consistently asserts that female colleagues have diminished intelligence. When a female board member asked for clarification on a specific issue, he stated, 'If she's that stupid, don't bother talking to her.'"
This was the second petition filed by the sponsors, after the first one failed to gain approval from the legal department.
"The first petition was rejected because it was based upon board of education guidelines and codes that were broken," said Karen Wall, another petitioner. "We were told that our charges had to be based upon federal and/or state statutes that had been broken."
The approved petition also accuses Hancock of creating a work environment so hostile that Sumner and Dain are among 10 administrative resignations this school year alone.
And it is true that the district has seen the highest number of resignations in its administrative staff this school year than it has in years and possibly ever.
"I have been with the school district since 2004 and this is the most administrative resignations we have experienced at one time," said district spokesman Alvie Cater.
Being smaller in size than such area districts as Shawnee Mission and Blue Valley, De Soto's salary range can tend to be lower, Cater said. Shawnee Mission also had quite a few new job openings this school year, due in large part to a major reorganization it has conducted at the administrative level.
Both are reasons cited by Hancock for the high number of resignations in De Soto.
"The reason the district has lost so many administrators is that the Shawnee Mission district has revamped their administration," he said. "They have hired many from us and other districts, which leaves openings. Due to the tax base of other districts, they can afford to pay more than this district, which explains the transfer of personnel. If you look at the history of USD 232, we have always been a training ground for other districts, mostly due to salary issues."
Out of the 10 administrators who have resigned, seven will be moving to the Shawnee Mission district next school year, including Sumner, who will take a job as assistant superintendent for human resources; current Starside Elementary Principal Kasey Weisharr, who is set to become principal at Ray Marsh Elementary; and current Mill Valley Associate Principal David Ewers, who will take a job as athletics director at Shawnee Mission North.
Not all will be taking a pay increase, however. Sumner's contract in Shawnee Mission lists an annual salary of $174,000, a little more than $9,000 less than his current salary in De Soto of $183,100.
Denying charges
As to the other charges laid against him, Hancock denies them, and says it's his penchant for asking the tough questions that hasn't sat well with many in the district. Since taking office, he has been highly vocal in his opposition to several "financial missteps," as he called them, including the controversial decision made by the district in 2013 to purchase nearly $1 million worth of technology equipment outside of the bidding process.
"The list just goes on and on on some of the things that have happened that have cost the taxpayers money," he said. "Now I've been extremely vocal about that and vocal about my concerns regarding the financial burden that has been perpetuated to the taxpayers by these bad business decisions. Other board members seem to be a bit more concerned about the reputation of administration as opposed to the financial burden of the taxpayers and what it prevents us from putting into the classrooms for those kids.
"I think me being vocal about these financial missteps, I don't know if it's a vendetta, but I'm sure there's people in administration who wish I would go away. I'm sure there's other board members that wish I would go away. They have a different view of the world than I do, I'll call it. Because of that, this whole thing's been a good old-fashioned smear campaign, simple as that."
Not so, says Nguyen and Wall.
"There's no personal gain, per se, in this, there's no vendetta," Nguyen said. "I think that my goal has been to get him removed because I feel like his presence on the board is not conducive to the board moving forward and working as a cohesive group."
And on the subject of finances, Nguyen questioned how it was fiscally responsible to lose so many administrators.
"When you have that many people leaving, it's going to make it very difficult to attract a qualified person," she said. "So in the long run, it costs quite a bit more money, and I just don't think that's responsible."
Though neither Wall nor Nguyen had been regular attendees of meetings prior to March 9 and both have said they have never witnessed themselves any misconduct by Hancock, they both said the petition is based on first-hand accounts from others.
After the petition was approved, the sponsors were given 90 days to gather 1,000 petition signatures. Wall said the group had more than was needed within two weeks.
"Before we filed the petition (that is a legal document), we made sure that our charges were valid and were validated by people who had witnessed his behavior in open, public meetings or had experienced his harassment and bullying behavior themselves," she said in a prepared statement emailed to The Dispatch April 30. "Even though we are given 90 days to gather the required 1,000 signatures, the fact that we have obtained over 1,200 signatures in 14 days indicates that Mr. Hancock's behaviors have been demonstrated in many venues, and the public knows what he is capable of saying and doing to others."
Still, Hancock isn't alone in his opinion that the allegations are baseless.
"No, quite frankly, no," said Tony Lauer on the subject of whether he had seen any sexual harassment or other misconduct by Hancock. Lauer has long been a diligent attendee to school board meetings. He said the main problem may not be with the questions Hancock asks, but the way he asks them, likening Hancock's personality to those often seen on a football field or basketball court.
"He definitely loses points for style. The reaction to the statements or the questions that he has, it's like sort of the way he comes across in meetings by some, that perhaps by outsiders or somebody that's used to being dealt with a bit more softly, he can be a bit abrasive," Lauer said of Hancock. "It's like cheerleaders versus a coach. A coach is going to be tougher. A coach is going to be somebody who is perhaps not as sensitive to what he's saying, and so I get that. I understand that. Do I think he's been abrasive? I've been to some meetings that were way worse than anything that Scott has ever done. I've been to Topeka, I've been to the Statehouse, I've been to city council. I'm contrasting his actions as an elected official of those that I witness in other environments. He ain't that bad."
As for the sexual harassment charges, Lauer said those were serious enough that if anything like that had occurred, something should have been done already.
"You have a group of leaders of the school district, you have a superintendent, you have a staff," he said. "If these actions and this behavior were occurring, shame on everybody in the room for allowing it to happen. But I don't think it happened."
In an emailed statement, Hancock pointed out that no formal complaints by anyone have been made to date.
"All allegations are untrue and fabricated. It took (more than one try) with the county election office just to pass the 'low bar' the state requires for this procedure," he said. "There have been no formal or un-formal complaints filed, which speaks of the validity. I do not frequent any of the USD 232 buildings except for board business. This can be verified not only by sign-in sheets at each building but with the video surveillance equipment at each facility. A charismatic administrator has chosen to leave the district for opportunities in another larger district, and there are those that are upset by his departure. The taxpayers of this community have seen lost tax revenue of $4-5 million dollars and a real cost of $14-15 million dollars due to financial mismanagement by this administration. … I have in the past and will in the future continue to ask questions regarding the use of and management of tax payers' dollars."
Some in support
While some of Hancock's fellow board members declined to comment on the recall petition, others were more candid. Board President Angela Handy said she herself signed the petition, "as I believe everything it states."
"I fully and vigorously support the voters' legal right to pursue this course of action," board member Mitch Powers said.
Member Bill Fletcher said he didn't quite feel comfortable with a petition in which no first-hand accusations from a named source are being made.
"If someone would step forward and say, 'This is what they did to me,' it would make more sense," he said. "Things could have been said, might not have been said. But unless someone is ready to make the accusations, than it's all hearsay, it seems like."
Nguyen said the sponsors have now collected close to 1,400 petition signatures. She said the plan is to file them this week with the Johnson County Election Office, after which each signature will have to be validated, said Election Commissioner Brian Newby, to make sure the signer is a registered voter in the De Soto school district. The petition will need to have at least 1,000 validated signatures before a recall election could take place. Newby said if it gets to that point, the election might occur by the middle of the summer.
Prior to that, Hancock would still have a chance to make his case. A determination of whether he was in the wrong will not be part of the process, however.
"We are, by law, directed not to look at whether the allegations are true or false," the JoCo Legal Department said in its April 7 letter to Nguyen, Wall and Julianne Wright, another sponsor, approving their petition. "We assume them to be true and determine whether, in our opinion, if true, they would support the standards for recall."
Furthermore, if the petition does make it to the election phase, it is likely to be successful, Newby said, citing a 2010 recall election in Gardner for City Council members John Shepherd and Mary Peters, both of whom were accused of violating the Kansas Open Meetings Act. Despite the fact that District Attorney Stephen Howe later found they had not violated the KOMA, recall elections for both of them were still successful.
"They were very clearly told by the DA that, essentially, they haven't done anything wrong ... but you can still recall them," Newby said. "The reasoning doesn't have to be substantive."
He added that the only recall petition efforts that have ever failed during his time as election commissioner were based on simple errors made by the petition sponsors, such as not meeting a deadline.
"Once it gets to be a recall, the person is going to be recalled," he said. "I wouldn't say it's easy to recall someone, it's quite hard. On the other hand, if you're determined, as we've seen in the past, than it can be done, and you don't have to have a dramatic reason why."