Brandon Kenig appointed to Ward
IV

City Council seat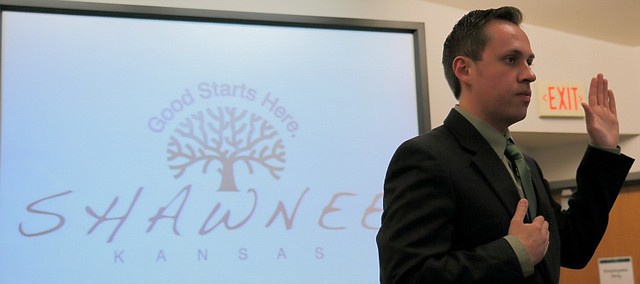 Shawnee — The Shawnee City Council appointed Brandon Kenig to serve as the Ward IV City Council representative Monday night.
The appointment process, which in recent years been wrought with conflict, went smoothly following a slight change to the nominating process.
Kenig, 29, took the seat next to fellow Ward IV representative Mickey Sandifer, who voted in favor of his appointment. Kenig has lived in Shawnee for 12 years, is a Shawnee Mission Northwest graduate and has been a member of the Shawnee Planning Commission since 2012. His time on the city planning commission was one of the reasons several current council members voted for Kenig.
"I appreciate all the candidates that have come forward," Sandifer said. "For somebody that has stepped up and sat on the planning commission, I've always had a tendency to try to display favor on them."
Kenig is a senior manager of Search Engine Optimization and social media with VinSolutions in Mission and said he is "humbled and honored" to be selected for the council seat.
"I look forward to doing my best to represent the taxpayers and the residents of Ward IV," he said.
He is also the president of his Seven Hills Farm Home Owners Association. In all of his recent efforts to become involved in Shawnee, Kenig said working with his HOA is what really made him interested in city government.
"It's within that role that I really got involved with the city and the planning commission," he said.
Kenig fills Mayor Michelle Distler's Ward IV Council seat that was vacated when we she was elected to mayor in April.
Each of the candidates who applied for the vacant seat was given the opportunity speak to the City Council for three minutes before taking questions from the governing body. Kenig was first to present followed by Frank Imgrund, Douglas Hill, Frank Neal and Christine Loomis-Nay. The order of their presentations was selected at random.
Council Member Mike Kemmling asked each of the applicants why they didn't run in the Ward IV election in April, what their political views were, what they thought the role of city government is and what they thought of recent decisions made by the city.
Kenig said he didn't run in the April election because he had several responsibilities within his company earlier this year that required his time, which limited his ability to campaign. Now, he said, he has time to dedicate to the city. Kenig said he is fiscally conservative and wants to be pragmatic with how the city spends money. He said the role of city government is to manage the basic needs of the city, starting with roads, sidewalks, curbs and gutters. He said that the city has done a good job in maintaining Shawnee's high quality of life but said more work has to be done to balance the aging eastern portion of the city with the expanding western portion.
"We don't want to become a tale of two Shawnees," Kenig said. "We need attention in both areas of the city to grow and make it work."
Kenig said he is in favor of tax incentives including Tax Increment Financing if a specific case deserves it. He also said he knows the cities around Shawnee are using similar incentives and that Shawnee can't risk losing economic development.
"If we do not engage, we risk the possibility of losing massive amounts of business," Kenig said.
The City Council, after hearing all of the presentations, then started the new method of nominating their choice. Each council member wrote who they nominated on a small piece of paper which was then broadcast to the audience on the council chamber's projectors. Council Members Stephanie Meyer, Jim Neighbor, Vaught and Sandifer all nominated Kenig. Kemmling and Dan Pflumm nominated Imgrund and Eric Jenkins nominated Hill.
With the most nominations, the council then considered Kenig for appointment with a formal vote. Kenig was appointed with a 4-3 vote with Pflumm, Kemmling and Jenkins voting against.
Kenig was then sworn in at the beginning of Monday's regular City Council meeting. He will serve for two years, until the next city election cycle, at which point he said he intends to run for the seat again.