Mill Valley falls to
BV

Southwest in regional finals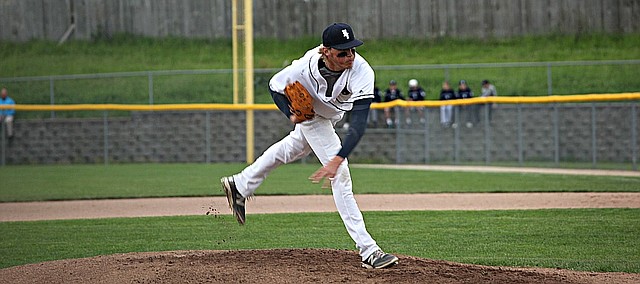 Shawnee — Mill Valley coach Jeff Strickland said before Tuesday's regional championship game against Blue Valley Southwest that his team was in for a battle. Over the next two hours, that's exactly what the Jaguars got.
Mill Valley saw its season come to a somber conclusion with a 6-4 loss to the Timberwolves at the 3 and 2 Baseball Club West Complex, finishing one step away from reaching the Class 5A state tournament in Wichita.
"It was a handful of big plays," Strickland said. "We told our guys at the beginning of today, we don't have to be great, just be good, because that usually wins games. Our kids, we couldn't have asked for more. They came out, they were ready to play, they played great, and Southwest played tremendous baseball. They're a well-coached team."
The Jaguars (17-4) took a 4-3 lead into the top of the seventh inning, but BV Southwest rallied with a two-run double from Austin Hoegerl and a sacrifice fly from Blake Shinkle.
Mill Valley was unable to muster their own rally in the bottom of the inning as Timberwolves pitcher Tanner Howe retired the Jaguars in order to secure the victory. BV Southwest used four pitchers — Howe, Andrew Gillett, Brendan Stanek and David Tudhope — who combined to allow nine hits and three earned runs.
"I'm very proud of our effort," Strickland said. "The end result was not what we wanted, but it's alright. We always tell them winning will take care of itself if you play well, and we played well, but it just didn't end up the right way today."
Mill Valley counted on starter Luke Krull to shoulder the load on the mound. The junior southpaw went 4 ⅔ innings, allowing eight hits and three earned runs. He struck out eight batters while only issuing two walks. Shae Stephens and Tyler Garrison each surrendered one earned run in relief.
"Tremendous," Strickland said of Krull's performance. "He was poised, and he's just gotten better as the year's gone on. The beauty of it is we get him back next year. He did a great job."
The Jaguars got off to a strong start, scoring the first two runs of the ballgame on RBI singles by A.J. Knight and Jake Drees in the second inning. Brady Garrison crossed the plate on a passed ball in the third to make the score 3-0.
The Timberwolves (13-8) answered in the top of the fifth, however, as Miller Hogan delivered a three-run double to center field. Mill Valley kept grinding, and with two outs in the bottom of the frame, Drees came up with an RBI double to reclaim the lead at 4-3. The score would remain that way until the decisive final inning.
"That's just the ebb and flow of baseball," Strickland said. "The bottom half of the inning, our nine hole comes up with a slap base hit, and we take the lead again. Can't beat that — they responded."
Despite the loss, Strickland said he was proud of what his team was able to accomplish this season. The Jaguars only lost a handful of games the entire year and captured a fourth consecutive Kaw Valley League title earlier this month.
"I think our senior class really stepped up," Strickland said. "They had to replace a senior class that had tremendous leadership, and they did. They stepped up and did that. You could see it tonight. Our seniors set a very high bar for next year's seniors, and that's what we want."
---
Jon Poorman is the sports editor at The Dispatch. Follow him on Twitter at @JonPoorman for all of the latest community sports news.