Shawnee teen to participate in
FBI

leadership program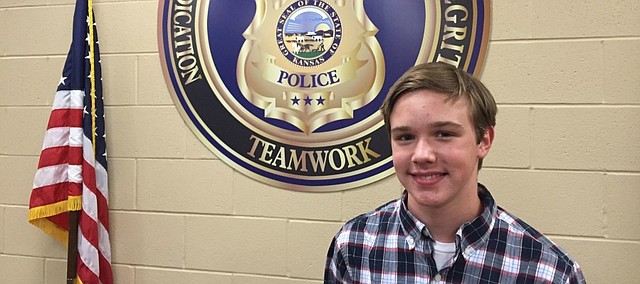 The thought of attending the Youth Leadership Program at FBI and DEA facilities in Quantico, Va., headquarters might sound like the perfect lead in to a career in law enforcement or criminal justice.
It can be. But for Tyler Orbin, 15, of Shawnee, it's more than that. It is a challenge. It is an opportunity of a lifetime.
Orbin attends Mill Valley High School and was selected as one of about 60 teenagers nationally to attend the FBI National Academy Associates' week-long training this summer. While his father, Maj. Doug Orbin of the Shawnee Police Department, has had a long career in law enforcement, Tyler wants to see what other paths this he can pursue through this leadership program. He said he does have an interest in law enforcement and the justice system, but he is really interested in leadership and would like to eventually become a film director.
"I do know that leadership is a very important skill in anything in life," Tyler said. "So I'm very excited for this."
Tyler was selected for the trip by the Kansas/Western Missouri Chapter of the FBI National Academy Associates to attend the Youth Leadership Program. The chapter pays to send one student each year to the program and recently picked Tyler for the trip during a meeting in Topeka. To be selected, students must have demonstrated high academic standards and good citizenship.
Tyler applied for the program by writing an essay and submitting an application that included two letters of recommendation from instructors at Mill Valley High School. he then went through an interview process with members of the local FBI National Academy Associates chapter.
Tyler's essay focused on leadership, something his teachers and father have noticed as a quality within him already. Hi father describes him as a quiet leader, one who leads by example. An instructor of Tyler's, Carmen Shelly, who is the Gifted Services Coordinator at Mill Valley, said Tyler is a "thinker."
"Tyler truly enjoys grappling with complex issues," Shelly said. "He finds the connections to other issues; he links the ideas to things he already knows; he extends the ideas to understand the implications for himself."
The Youth Leadership Program, which hosts teens ages 14, 15 and 16, isn't just for those seeking careers in law enforcement, but it will focus on the American system of criminal justice, including police organization, leadership and the structure and operation of criminal courts.
Tyler and his father are traveling to Virginia a day before the program begins to visit the Smithsonian Institution Museum. Then begins Tyler's week of training, which includes daily physical training and several educational programs. Tyler's days will begin at 5:30 a.m. and end promptly with lights out at 9:30 p.m. Tyler's father Doug Orbin said he is proud of his son for being selected for the trip, even if he doesn't pursue a career in criminal justice.
"I'm proud of him," Doug Orbin said. "He works very hard at his studies, and this is going to be a great experience for him."
The program is June 13-20 and concludes with a graduation ceremony, which Doug Orbin will also get to attend.