Neighbors honored for heroism during deadly fire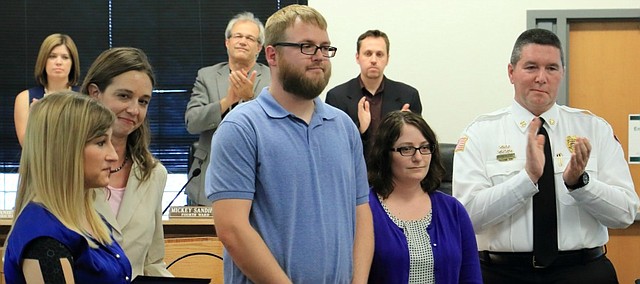 Shawnee — Jessica Daale was driving her son to school the morning of May 14 when she saw smoke rising from a neighbors house on Lucille Lane.
Daale pulled over and went up to the front door of the house, where she could hear someone yelling for help. Daale was able to force open a locked screen door and front door to find two women. She pulled one from the house that was already filling with smoke.
Simultaneously, the neighbors who lived next door to the house, Katherine and Brandon Humble, had also noticed the smoke and rushed over to help. Katherine Humble helped Daale pull out the second woman from the front while Brandon went to the back of the house, forced open a door and helped guide a man from the basement to the back door with his voice.
"All three of us were just at the right place at the right time," Daale said. "We were just being good neighbors, I would hope someone would do the same thing for our family."
Firefighters responded shortly after and tragically found 63-year-old Ronnie Walkup and 3-year-old Christian Young dead inside the house. Investigators said they died from carbon monoxide toxicity after a fire started as a result of an extension chord plugged into an overloaded outlet.
Daale and the Humbles were honored for their bravery Tuesday night at a City Council meeting by Mayor Michelle Distler, Fire Chief John Mattox and members of the Shawnee Fire Department. Distler presented each of them with a certificate of appreciation, while Mattox gave them each Shawnee Fire Department Challenge Coins, a coin with the Shawnee logo on it that is given to someone following a special achievement.
"It's the selfless acts of these three that show the true character and bravery of our citizens," Distler said.
Fire struck the same house, near 49th Street between Nieman Road and Quivira Road, years ago on Sept. 22, 1989, resulting in the death of 4-year-old Cody Young, a member of the same family. During that fire, neighbors were also key to saving other family members, according to a neighbor across the street.
Katherine Humble said that it was just a natural reaction to see if anyone needed help in the house during the recent fire.
"Instinct just takes over, and you do what needs to be done," Humble said.
Members of the Walkup and Young family have asked for privacy in the aftermath of the fire. Two fundraising pages have been established at GoFundMe.com to help with funeral expenses, as well as to assist surviving family members. They can be found at www.gofundme.com/babychristianyoung and www.gofundme.com/ronniewalkup.