Mill Valley football earns 23 All-
KVL

selections
The Mill Valley High School football team was well-represented on the All-Kaw Valley League teams after finishing the regular season with a 3-0 record against the likes of Lansing, Bonner Springs and Turner.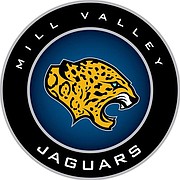 The Jaguars outscored their three league opponents 159-20 this season, their final year as a member of the KVL. Mill Valley will compete in the Eastern Kansas League in 2016.
Offensive lineman Ben Hecht led the way for the Jaguars, earning the league's only unanimous first-team selection. Fellow linemen Tyler Shurley and Keegan Zars were also named to the first team. At the skill positions, quarterback Logan Koch and wide receiver Christian Jegen were also first-team selections, as was place kicker Andrew Hicks.
On the defensive side of the ball, linemen Hersimran Aujla, Anthony Brown and Cole Morris were all first-team picks. Linebackers Seth Burnett, Jack Nielsen and Spencer Clayborn, and defensive backs Jegen and Joel Donn were first-team selections as well.
Offensive lineman Tanner Jenkins (second team), wide receiver Luke Krull (second team), defensive lineman D.J. Graviette (second team), punter Hicks (second team), defensive lineman Blaine Boudreaux (honorable mention) and defensive backs Chase Midyett (honorable mention) and Sebastian Peterson (honorable mention), running back Tristan Milne (honorable mention) and tight end Brady Garrison (honorable mention) rounded out the Jaguars all-league selections.
---
Jon Poorman is the sports editor at The Dispatch. Follow him on Twitter at @JonPoorman for all of the latest community sports news.