She's A Pistol celebrates opening of new location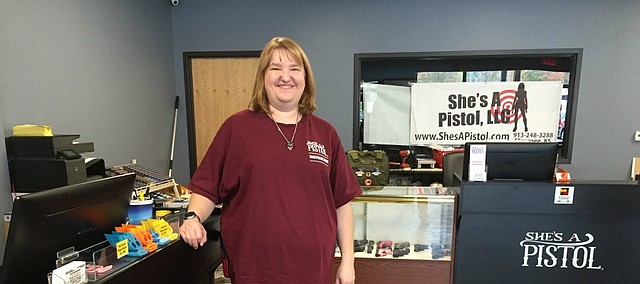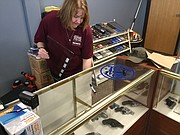 For years Becky and Jon Bieker controlled every aspect of their Shawnee business, She's A Pistol.
From customer service to inventory, they had their hands on everything.
"People would always ask me if we had kids, and I'd say I have a business," Bieker said. "This was our kid, this was our dream."
But a lot has changed since they opened the business three years ago in downtown Shawnee and now, Becky Bieker is moving the business to 6487 Quivira Road, next to Bates City BBQ.
The gun store that prides itself on empowering women and teaching all types of self defense, is making the move almost one year after the deadly robbery at the downtown store. Jon Bieker was shot and killed in the shooting trying to protect his wife and business. Three of the men accused of killing him are still awaiting trial. One is expected to plead guilty next month.
Becky Bieker has slowly recovered from the event and still gets emotional when she talks about her late husband. Her recovery was harder on some days, when she would have to return to their store, the store where he was shot, to continue pursuing their dream.
But she loves Shawnee. She says Shawnee has embraced her like family and given her more support than she could ever imagine. So, when she started looking for another location, she knew she wanted it to be in Shawnee.
She found her ideal spot in the space previously occupied by Small Wonders children's store and the vacant space adjacent to Bates City BBQ.
Becky Bieker said she and her husband enjoyed Bates City BBQ and would eat there once a week. Everything seemed to fit what she was looking for. Except, she didn't have her husband to help with the move.
Reluctantly, she allowed herself to give up control of some of the aspects of the business to her capable employees, family and friends.
"The move was hard, it was hard for me to let go of some things and accept the help," Bieker said. "Jon and I always had the mentality that we would maintain control of everything."
The move couldn't have happened without her support system, she says. She doesn't know what will become of her old location in downtown Shawnee, but she says she will miss it and wishes the landlord luck in finding a replacement tenant. She is one of several downtown businesses to leave the area recently, including Nallia's School of Dance, 32 Below bar, and the Edward Jones office adjacent to the old She's A Pistol.
Mike Unterreiner, owner of Hartman Hardware, said She's A Pistol was great destination store where people would come to downtown Shawnee from the entire region. He said people would often stop in his hardware store asking about She's A Pistol.
"We never like to see one of our own go, it changes the whole layout of things," Unterreiner said. "But the nice thing is she is still in Shawnee and just a mile down the road."
Not only did Bieker keep her business local by moving down the road, but she hired and used a lot of Shawnee companies to help her open the new location. From paint bought at Shawnee's Sherwin Williams to various construction contractors in Shawnee, the majority of the project was done keeping her money in Shawnee.
To build her new store, she merged the two spaces in the shopping center to create a space that she says is much more user friendly. Although the new location is 400-square-feet smaller than the downtown location, Bieker says it offers her 11 employees and their customers much more usable space.
She said customers at the old location would have to walk around the business to access the self-defense classrooms. At the new store, she has created a larger, single classroom where all of the classes will be taught. She also hopes to start teaching new group self-defense classes for husbands and wives and other group sizes.
She said support from other volunteers during the move and ever since the shooting has continued to blow her away. To commemorate not only her husband but the community support she felt after his death, she will be framing a large Shawnee Strong banner that hundreds of people signed during a candlelight vigil in January.
"We haven't forgotten and we never will," Bieker said.
She said the business would not have been possible without her husband and she has been able to open this new location because of him, even if she has had to do it without him.
"That was like our first house, but this is home now," she said.
Bieker is celebrating the new location's grand opening with an event on Nov. 13 and 14 that will feature raffles and other activities. For more information, visit ShesAPistol.com.