Shawnee man charged in death of toddler following weekend crash
A Shawnee man has been charged with involuntary manslaughter in the death of 17-month-old Addilynn Poole of Spring Hill, who died in a weekend crash in Overland Park.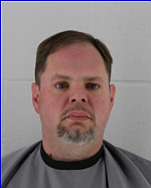 Boyd Allen Chism, 39, was charged Monday by Johnson County prosecutors who say that Chism was driving recklessly when he crashed into a car carrying Addilynn, her 20-year-old mother and an 8-year-old relative. Chism was also charged with two counts of aggravated battery in connection with the injuries sustained by the other two passengers. Addilyn's father was also in the vehicle but was not injured, according to Overland Park police.
The crash happened just before 3 p.m. Saturday at 175th Street and Pflumm Road, according to police.
A judge set Chism's bond at $500,000 over the weekend. His first court appearance is scheduled for Tuesday in Johnson County District Court.
More like this story