Mill Valley advances to state championship game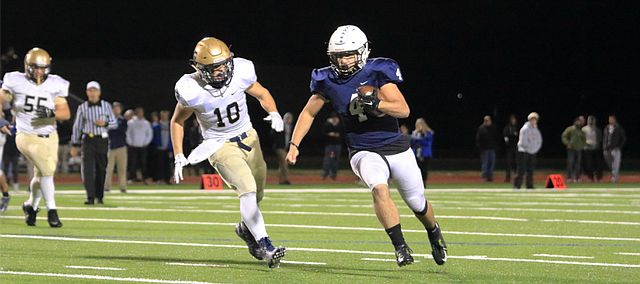 After one quarter of play, the Mill Valley football team found itself trailing St. Thomas Aquinas 7-0 in the Class 5A state semifinals on Friday night. But that's when the Jaguars kicked things into high gear, scoring 28 unanswered points on their way to a 45-28 victory.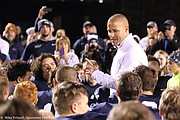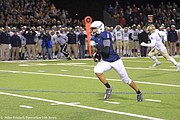 With the triumph, No. 1 Mill Valley (11-1) advanced to the state championship game for the first time in program history.
The Jaguars will face off against No. 2 Bishop Carroll (11-1) of Wichita at 1 p.m. next Saturday at Pittsburg State University's Carnie Smith Stadium. Carroll defeated Goddard-Eisenhower 34-7 in the other semifinal on Friday evening.
Against Aquinas, Mill Valley was once again led by senior Christian Jegen, who piled up 332 all-purpose yards and three touchdowns. Jegen collected 125 yards rushing and 155 yards receiving, returned a kickoff 58 yards and intercepted a pass on defense.
Quarterback Logan Koch completed 14 of 24 passes for 300 yards with three touchdowns and two interceptions. He also ran for 60 yards and another score. Brady Garrison caught two passes for 59 yards and a touchdown, and Lucas Krull hauled in three passes for 51 yards and a score.
After surrendering a touchdown pass from Karter Odermann to Duron Lowe in the first quarter, the Mill Valley defense stood its ground and the offense went to work.
The Jaguars found the end zone for the first time when Jegen scored on a 10-yard run. Koch then scored on a two-yard run and found Krull for a two-yard touchdown pass to put the Jaguars up 21-7 at halftime.
Mill Valley started the third quarter with a seven-yard touchdown pass from Koch to Garrison, taking a 28-7 advantage.
Aquinas answered back with 69-yard touchdown pass from Odermann to James Cosentino, but Koch and Jegen connected for a 10-yard touchdown to put the Jaguars up 35-14.
Cosentino scored on a run of 77 yards to once again pull his team within 14 points of the Jaguars. But Koch and Jegen connected on a 60-yard touchdown pass to give Mill Valley some breathing room.
Cosentino scored on an eight-yard run, and Mill Valley's Andrew Hicks kicked a 39-yard field goal to cap the scoring in the fourth quarter.
---
Jon Poorman is the sports editor at The Dispatch. Follow him on Twitter at @JonPoorman for all of the latest community sports news.
More like this story