SM

North aims for return to state tournament
With a wealth of experience and talent returning, the Shawnee Mission North boys basketball team is poised for another run to the Class 6A state tournament.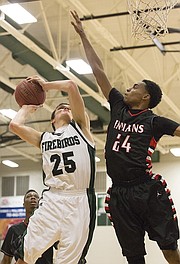 But the Indians will have a much different outcome in mind if they can make it back to the big dance in Wichita. They want the ultimate hardware: a shiny, new championship plaque.
SM North took fourth place at state last year and finished its season with a 16-9 record. It was the first time the team had been to the state tournament since 2002.
The Indians defeated Derby 65-51 in the first round before losing to Lawrence 78-64 in the semifinals and to Olathe East 68-63 in the third-place game. SM North finished as the No. 8 team in the final rankings from the Kansas Basketball Coaches Association.
"The guys were happy about being at state last year," SM North coach Steve Stitzer said. "I think that's pretty much what the objective was once we got there. They were too happy. I think that this year, with the team we have, we've got to go there and win it.
"The kids have that experience, and they know they can win. I expect to go to state every year. If we're not going to state, I feel like it's a failure. I just want to make hotel reservations."
SM North will once again be led by senior twins Michael and Marcus Weathers, who were both all-state selections last season for a team that averaged 64.6 points per game. The brothers combined to average 47.3 points per contest at the state tournament, accounting for nearly 74 percent of the team's scoring.
Both players said they have received scholarship offers, but they did not want to disclose specifically which schools are showing interest.
"We feel very comfortable," Marcus Weathers said. "We have to be leaders and be a lot more vocal, but I think we're both very comfortable in those positions, and I think we can lead this team to be the best.
"If we are fortunate enough to go back to state this year, we'll know how to handle it, and we'll be even more professional about it."
Although the Indians will undoubtedly lean on the basketball acumen of the Weathers brothers, Stitzer also expects bigger contributions from players like seniors Will Schneider (6-foot-3) and Cole Gibson (6-foot), and juniors Avante Williams (6-foot-2) and Danny Bradley (6-foot-1).
Those players and others will be looking to replace the production of graduated starters like Nick Perez and Brendon Henderson, who were instrumental in the team's success last winter.
"We've got to keep every day in perspective, every game in perspective," Stitzer said. "We've got some people back, but there's still going to be a learning experience there to get to where we need to be, mentally and physically. The good thing we have this year coming in is depth, and last year, we didn't have that. I've got a bench, and I can look down there and see who I want to put in."
The regular season schedule will certainly help the development of the team this year, especially when it comes time to compete against Sunflower League foes. Including SM North, the conference boasted four of the top 10 teams in the state last season.
"I think the Sunflower League is the toughest, by far," Michael Weathers said. "Night in and night out, you have to play competition that's going to give you their best game. If you don't prepare, then you can get beat on any given night. You just have to prepare yourself for every game."
The Indians will open the season on Friday, Dec. 4, on the road against Blue Valley Southwest. They will host a Public vs. Private Tournament the weekend of Dec. 10-12 and will begin league play on Tuesday, Jan. 5, at home against Olathe North.
---
Jon Poorman is the sports editor at The Dispatch. Follow him on Twitter at @JonPoorman for all of the latest community sports news.
More like this story