Face to Face: Old Shawnee Pizza's Cassie Brothers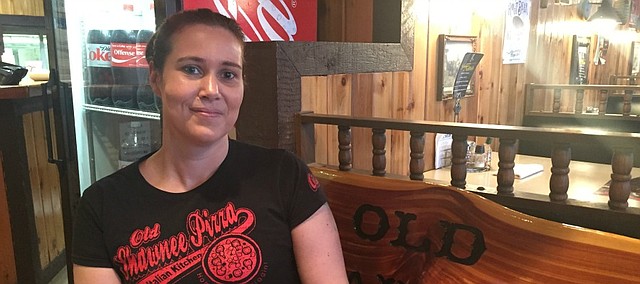 Name: Cassie Brothers
Born: Kansas City, Kan.
Family: Son Andre, 14, and daughter Kevina, 13.
Occupation: Main Server and Party Coordinator at Old Shawnee Pizza
Dream job as a child: Brothers always wanted to be a Dallas Cowboys cheerleader. In fact, she still secretly, or not so secretly, still has that dream.
"I'm a die hard fan of the Cowboys and the customers know it," Brothers said.
Digging Deeper: Anyone who has eaten lunch or stopped in to pick up a pizza at Old Shawnee Pizza over the past four years surely knows Cassie Brothers.
Brothers' smile is ever-present in the Shawnee staple. Brothers began working for Old Shawnee Pizza more than 20 years ago as a part-time employee. Before that, she was a 13-year-old who grew up working for Pizza Shoppe in the same building. Ever since, Brothers has been a big part of the local business.
"It's home," Brothers said. "And we're all one big happy dysfunctional family."
Brothers worked in real estate for years while maintaining her part-time job with the business until four years ago when she joined the staff full time.
Owner Lisa Walker said Brothers' personality in a big part of the restaurant's local success.
"She adds to the experience here," Walker said. "The customers love her."
Not only do the customers love Brothers, but she loves the customers. She takes the time to not only know her customers' names, but she knows their relatives' names and knows what their favorite dishes are. For many regulars, she knows which days they come in, where they like to sit and what they will order.
"I basically know their whole life story," Brothers laughed.
Even though Brothers lives in Kansas City, Kan., she jokes that she basically lives in Shawnee because of her job and has become a de-facto resident. Even her son, Andre, works at the restaurant with her as a busser.
Brothers said she loves her job and describes it as the "easiest job in the world." Her customers know when to find her as she works Monday through Friday from 9 a.m. to 5 p.m. She happily says she works "banker hours."
"I've always been a people person,"
She said her favorite pizza on the Old Shawnee Pizza menu is the Tuscany Chicken pizza, but she said she loves all of the salads and has fun making her own personal pizzas when she has time.