Local Boy Scout troop holds Cake Bake Competition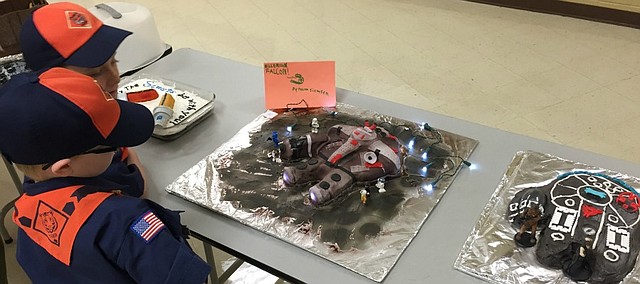 The classic Star Wars character Chewbacca never looked, or tasted, so good.
Joshua Mackiewicz, 8, and his family baked and decorated a cake shaped as the furry hero from the Star Wars movies for this year's Shawnee Boy Scout Post 3284's Cake Bake. Chewbacca's sash was creatively made with cookies and cream Hershey's bars, his eyes were made with Whoppers and Thin Mints and his mouth was made out a KitKat bar.
Mackiewicz said he enjoyed baking the cake, as he put it out for display in the annual cake baking competition. This year's contest was judged by Mayor Michelle Distler, Shawnee Police Chief Rob Moser, Shawnee Fire Chief John Mattox and The Shawnee Dispatch. But, he said, his favorite part of the competition always comes after the judging.
"I like eating all the cakes," Mackiewicz said.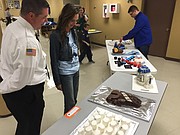 He was one of many elaborate entries in this year's competition, which was held in McDivitt Hall of St. Joseph Catholic Church. There were five categories for the scouts to enter: faith, scouting, Star Wars, emergency services and siblings.
The most popular category was Star Wars as the scouts made edible versions of the Death Star, R2-D2 and of course, Chewbacca.
Scout leader Jon Sterling, who is also a detective with the Shawnee Police Department, said the annual Cake Bake competition is one that has been passed down through generations of scout groups.
"When I was in scouts, we were doing this," Sterling said.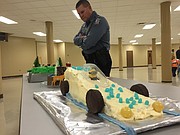 Sterling's sons Jacob and Gus both entered cakes in the competition and Gus won the emergency services category for his Shawnee police car cake.
The judges not only chose their favorite cakes, but spoke with the group of scouts about their roles in the city of Shawnee.
Several of the scouts also spoke with Distler, Moser and Mattox about their roles as citizens in American society.
After the educational speeches, the boys all got to storm the tables displaying the cakes and give each a taste. And just like that, Chewbacca, the Death Star and R2-D2 were taken apart bite by bite.