Shawnee businesses prepare for Small Business Saturday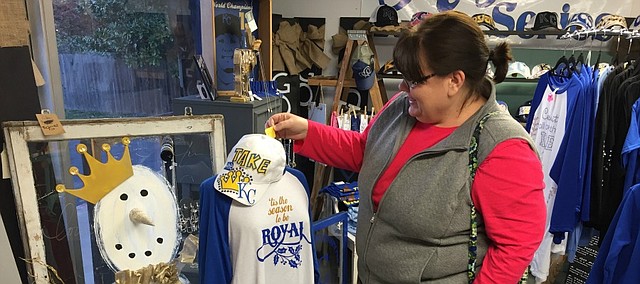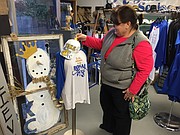 Angie Bensouda is always happily surprised when she walks into ShananiGanns, one of the many small businesses in Shawnee participating in this year's Small Business Saturday campaign.
"There's always something new when you come in here," Bensouda said. "It's fun, new and the customer service at a local business is the best."
It's that feeling that Bensouda described that the Shawnee Chamber of Commerce and more than 50 local business are trying to spread around the community as Small Business Saturday approaches. Small Business Saturday was started by American Express several years ago to try to get people to shop local following Black Friday.
In 2012, an estimated $5.5 billion was spent at small independent businesses on Small Business Saturday, according to American Express. In 2013, $5.7 billion was spent, and in 2014, more than $14 billion was spent.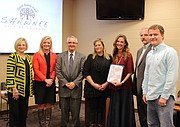 And as the national campaign has gained momentum, so has the local Shawnee version. This year's number of participating business has more than doubled to more than 50 businesses. The chamber became an official "champion" of Small Business Saturday two years ago and has been working to make the event a positive one for all local business owners.
As part of Small Business Saturday, the chamber is giving customers "passports" that they can take around to local businesses participating in the event. Each time a shopper makes a purchase at a participating business, they will receive a stamp on the passport. The first shopper to return their passport to the Shawnee Chamber office after 9 a.m. Monday, Nov. 30, with at least five stamps will receive a $50 Gift Card.
"The number of participating businesses has doubled since 2014, and we are excited to continue to grow the movement for years to come," said Shawnee Chamber of Commerce President and CEO Linda Leeper. "Small businesses represent the heart of our community and it is vital that consumers make it a priority to shop small."
Small businesses employ more people than all large U.S. corporations. According to a study completed by research firm Civic Economics, for every $100 spent at a local store, approximately $68 stays within the community compared to $43 for national chain stores, and nearly $0 for shopping online.
Many of the Shawnee businesses participating in the event are offering promotions for their customers on Saturday. At ShananiGanns, customers will get a free grab bag with a purchase of $50 or more.
Kristina Gann-Albright, owner of ShananiGanns, 12208 Johnson Drive, participated in the event last year and is looking forward to its return this year. She said the choice to support local businesses should be an easy one for consumers this time of year.
"Small-town businesses give bigger smiles and a more down-to-earth experience," Gann-Albright said. "You're like royalty in a small business."
For more information about Small Business Saturday, visit the Shawnee Chamber of Commerce website, shawneekschamber.com/shopsmall, or call 913-631-6545.