Champions: Mill Valley wins Class 5A football title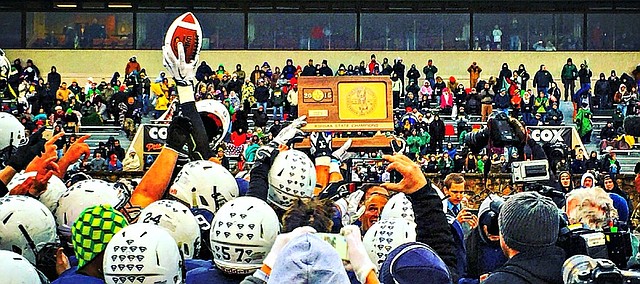 Pittsburg — After delivering one last postgame speech to his team, Mill Valley's Joel Applebee turned and embraced his wife, Amanda. As his eyes welled with tears and emotions streamed through his body, the Jaguars' sixth-year head coach could finally take a breath of relief.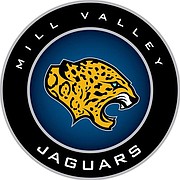 The task at hand was completed. Finished. Done.
Mill Valley won its first football state title in school history on Saturday at Pittsburg State's Carnie Smith Stadium, taking down defending champion Bishop Carroll 35-14 in the Class 5A title game on a frigid November afternoon.
The Jaguars (12-1) jumped out to a 21-0 lead in the first quarter and never looked back on their way to the victory. Mill Valley's high-octane offense and gritty defense delivered one final time for Applebee, who knew coming into the season that this squad had a chance to be special.
"I told the kids last night, it's about them," he said. "This should rank for them as one of their greatest accomplishments — one of the things they're going to remember the most in their lifetime, absolutely. … I'm just proud of the kids. Proud of the kids, proud of our school, proud of the community. Our community deserves this. It's hard to describe. It' a great feeling. It's awesome."
Fast start
The Mill Valley offense was once again led by its three main playmakers as quarterback Logan Koch and receivers Lucas Krull and Christian Jegen concluded their prep careers with a bang. Koch completed 10 of 19 passes for 200 yards and a touchdown and added 112 yards and three more scores on the ground.
Jegen compiled 176 yards of total offense (92 rushing, 87 receiving), and Krull chipped in with four catches for 85 yards and a touchdown. It was that kind of production that led to the Jaguars' commanding early lead.
Mill Valley jumped out to a 7-0 advantage on Koch's 19-yard touchdown run after Carroll fumbled and gave the Jaguars a short field. Cole Morris came up with the recovery on defense, and three plays later, Koch was in the end zone.
Koch then connected with Krull on a 26-yard touchdown pass and scrambled for a 13-yard score to open up a 21-0 lead with 3:49 to play in the opening quarter.
"We wanted to come out really fast on them and really strong," Applebee said. "We did a great job on offense. Logan and Christian and everybody up front did an outstanding job, and that's exactly how we wanted to start the game."
Responding
After being shell-shocked in the first quarter, the Golden Eagles (11-2) finally found their footing in the second when quarterback Jakob Allen hit Ethan Lopez for a 55-yard touchdown. That cut the Jaguars' lead back down to 14.
Mill Valley missed a field goal on its next possession, and after getting a stop on defense, Allen launched a wind-aided punt 85 yards down to the Jaguars' one-yard line. How did Mill Valley respond? With a nine-play, 99-yard drive and a two-yard touchdown plunge by Koch.
Just like the that, the lead was back to 21.
"It's the same thing it's been all year," Applebee said. "Our team has responded so well to every kind of adversity that's been thrown at us."
Closing time
Despite Mill Valley's fast start, the Jaguars held just a 28-14 advantage at halftime after Carroll scored on a 23-yard halfback pass from Adam Theis to Zachary Wright.
After a scoreless third quarter, the Jaguars' offense seemed to find its rhythm again early in the fourth. Mill Valley essentially put the game on ice with a 10-play, 80-yard drive, capped by a bruising, 22-yard touchdown run by Jegen. The final scoring drive chewed up three and a half minutes of clock.
The defense did the rest.
The Jaguars, despite surrendering 349 yards, stood tall when it mattered the most. Mill Valley held the Golden Eagles to 4-for-16 on third down and 1-for-6 on fourth down. The Jaguars also came up with five sacks and three turnovers. Morris and Jegen recovered fumbles, and Chase Midyett secured a late interception.
"We knew we were going to have to stop them," said linebacker Seth Burnett, who led the team with 12 tackles. "We gave up a couple of early touchdowns, but we knew that we had to come back. We just had to pick ourselves up and keep going. We just executed, and we knew they weren't scoring on us again."
Leaving a legacy
After losing in the first round of the playoffs last season, the Jaguars seemed to be on the ultimate redemption tour in 2015 as they tore through a tumultuous schedule. Including the playoffs, Mill Valley outscored its opponents 551-177 and capped the season on an eight-game winning streak.
The Jaguars' only blemish was a 28-21 home loss to Staley, one of the top teams in Missouri.
Mill Valley, who will join the Eastern Kansas League next season, is now firmly on the map as one of the state's top programs. Since Applebee's arrival, the Jaguars have amassed an overall record of 48-16. With 17 returning starters and an undeniable camaraderie, this year's squad had all the makings of a champion.
"It means everything," Jegen said. "It took four long years of working. We haven't had the best playoff runs, but this is just a special senior group and team all-around. It's amazing."
---
Jon Poorman is the sports editor at The Dispatch. Follow him on Twitter at @JonPoorman for all of the latest community sports news.