City to consider improvement district for new western Shawnee housing development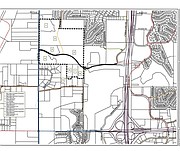 A western Shawnee neighborhood that was supposed to be developed before the recession of 2008 is seeing new life, and the city will hold a public meeting to determine whether an improvement district should be created in the area to help fund several road improvements.
Bank of Blue Valley and Prieb Homes have approached the city about building 300 residential units between Clare Road and Gleason Road in western Shawnee south of 57th Street. The area was zoned and platted for the development of Farmington Hills before the recession, but over the past several years, the property became bank-owned.
The new development would include single-family homes with the potential for some "twin-villas" according to Prieb Homes, aimed at attracted the "baby-boomer market."
The city will now, on Dec. 14, hold a public hearing to discuss the creation of an improvement district on the site to help fund some road improvements for the development.
The proposal from the developers is for the city to partially fund the western section of road from Clare Road to Gleason Road that would go through the proposed development. In order to complete the entire road at one time and to allow for appropriate access, the city would also need to improve Clear Creek Parkway from Gleason to Kansas Highway 7.
The estimated total cost for developing the area within the improvement district is $3,171,000. The project is not currently on the city's Capital Improvement Project list. The cost to the city for the proposed project would include the excise tax on the nine parcels in the proposed district, estimated at $1,521,866. The remaining cost of $1,649,134 would be a maximum assessment to be apportioned between the parcels of the improvement district. The project would be debt funded for 10 years with general obligation bonds, with the debt payments funded from the Economic Development Fund.
The estimated cost to the city for of the entire road from K-7 to Clare Road would be approximately $3.7 million, with estimated annual debt payments of $435,000 per year for 10 years to follow.
The Shawnee City Council unanimously agreed to hold the public hearing on Dec. 14 and if the council should choose to move forward with creation of the benefit district, there would be another public meeting to authorize general obligation bonds for the section east of Gleason Road.
Greg Prieb of Prieb Homes said the city's ability to work with developers on excise tax abatement and benefit districts are what attracted them to the area.
"Without these tools I am not sure there would be something that would have made this possible," Prieb wrote in a letter to the city.