No. 1 Mill Valley falls to Staley at home
The Mill Valley High School football team lost its first game of the season on Friday night, falling to Staley 28-21 at home in a battle of highly-ranked teams.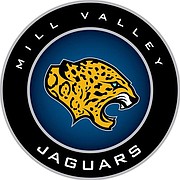 The No. 1 state-ranked Jaguars, who dropped to 4-1 this season with the loss, were out-gained by the Falcons 384-286. Mill Valley was led by quarterback Logan Koch, who finished 22-for-38 for 224 yards and three touchdowns.
Christian Jegen caught nine passes for 118 yards and a touchdown, and Luke Krull caught eight passes for 78 yards and a pair of scores.
Staley was led by running back Julian Ross, who gained 130 yards on 23 carries. The Falcons rushed for 280 yards as a team.
The Jaguars will be back in action at 7 p.m. on Friday as they play host to Kaw Valley League rival Lansing.
---
Jon Poorman is the sports editor at The Dispatch. Follow him on Twitter at @JonPoorman for all of the latest community sports news.
More like this story