Civil Air Patrol and Shawnee
CERT

practice search and rescue at Shawnee Mission Park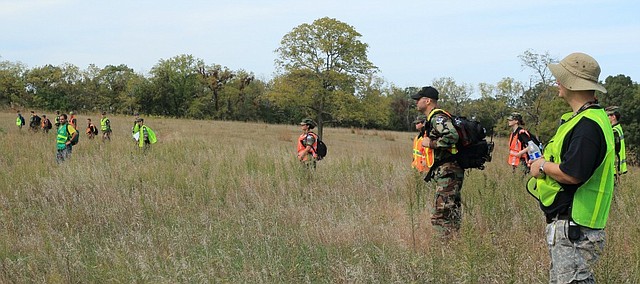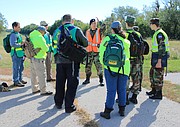 If there's a missing person in Johnson County, the Shawnee Community Emergency Response Team (CERT) and the local Civil Air Patrol squadron will be there to find them.
On Saturday, the Kansas City and the Heartland squadrons of the Civil Air Patrol got together with the Shawnee CERT to search Shawnee Mission Park for missing people and evidence.
Members of the Heartland Civil Air Patrol cadet program served as the missing people and wandered through the woods at the park while Civil Air Patrol officers and CERT team members searched for them. Meanwhile, a Cessna 182 from the local Air Force auxiliary office flew overhead, relaying directions and coordinates to the teams on the ground.
Terry Kegin, the city of Shawnee's emergency management coordinator and public affairs and emergency services officer for the Civil Air Patrol, said the exercise was not only useful for missing person scenarios, but it was fun.
"It was great to be able to have a plane in the air," Kegin said.
The ground teams were able to practice ground-to-air communication and worked on locating not only people but pieces of potential evidence.
The exercise is good for most missing person scenarios, Kegin said. Most commonly, these groups would respond to a case of a missing person from an assisted living facility or special needs facility, and people dealing with mental illness like Alzheimer's Disease and Autism.
Civil Air Patrol officers are trained with critical-incident stress management skills like de-escalation and psychological first aid to be able to communicate with missing people who might not want to be found or who might be afraid of the search and rescue officers.
Kegin said those skills are also useful for Shawnee CERT members. He hopes to be able to teach those same crisis skills to upcoming CERT classes in addition to their disaster curriculum. CERT training teaches disaster preparedness and disaster response skills so that, in the event of a disaster, primary emergency responders can more efficiently handle crisis. He also said the exercise served the purpose of getting various emergency response groups together to become familiar with each other.
"In a disaster, everyone is going to have to work together," Kegin said. "Better to exchange cards now then on the scene of a disaster."
The Shawnee CERT team is about to start its third class in conjunction with the Overland Park CERT team. The Shawnee CERT team began in 2014 and just graduated 17 new members as part of its second class.