Mill Valley crushes Kaw Valley rival Lansing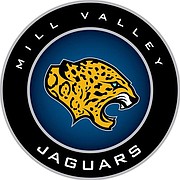 The Mill Valley High School football team captured a resounding 63-6 road victory over Kaw Valley League rival Lansing on Friday evening, improving to 5-1 this season in the process.
The Jaguars, ranked No. 2 in the state in Class 5A, scored 56 points in the first half, reaching an even 28 points in each of the first two quarters. Tristan Milne and Logan Koch got the scoring started, rushing for 25- and 13-yard touchdowns, respectively, to put Mill Valley up 14-0.
Koch then took to the air, connecting with Luke Krull on a 45-yard score and finding Christian Jegen on a 23-yarder. Koch then found Jegen for a 14-yard touchdown, and Milne ran 66 yards to paydirt for the 42-0 advantage.
Koch did the rest of the first-half damage, scoring on touchdowns runs of 11 and 30 yards, respectively. Ike Valencia added a six-yard touchdown run in the third quarter to cap the scoring for the Jaguars.
Mill Valley will be back in action at 7 p.m. on Friday as the Jaguars travel to St. Thomas Aquinas for a district game against St. James Academy (6-0), the No. 5 ranked team in Class 5A.
---
Jon Poorman is the sports editor at The Dispatch. Follow him on Twitter at @JonPoorman for all of the latest community sports news.
More like this story