Erfurt Park opens with celebration of two cities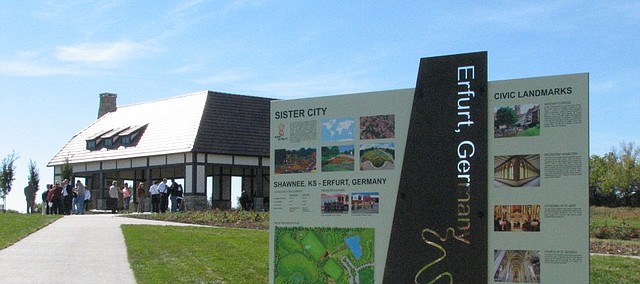 The sight of children playing on the brand new playground brought a big smile to Lord Mayor Andreas Bausewein of Erfurt, Germany.
He remembers playing on a playground just like it as a child. He continued to look around the new Erfurt Park, dedicated to Shawnee's sister city, and described how each part of the park reminded him of home and how all of the Shawnee families taking advantage of the park made him proud.
"These children are something that we can build on, they are the future of our relationship with Shawnee," Bausewein said.
Erfurt Park was dedicated and officially opened Saturday with a large ceremony that brought together representatives of the city of Shawnee, the city of Erfurt and Shawnee residents. Hundreds gathered in the main shelter of the park, one of two shelters built to resemble traditional buildings of Erfurt. Erfurt, a city of more than 200,000, has more than a dozen sister cities around the world but Bausewein said the relationship built with Shawnee over the years is a special one. He said the park is a permanent symbol of the cities' strong relationship.
"There is now a piece of Erfurt's homeland right here in Shawnee," Bausewein said.
The relationship between the two cities began with former Mayor Tony Soetaert who travelled to East Germany during the late 1980s when the Berlin Wall was still standing. He had received a letter from the last communist leader of East Germany, Erich Honecher, expressing interested in creating ties to the western world. That letter allowed Soetaert to visit East Germany when very few were allowed through the Berlin Wall. Soetaert, who is now 79 years old, was thanked repeatedly for his hard work and dedication in uniting the two cities. The two cities became sister cities in 1993 after years of communication. When Soetaert was asked what he thought of the Erfurt Park, he simply said, "beautiful."
Erfurt Park was designed with the help of the Shawnee sister cities committee and a committee of Shawnee and Erfurt leaders who worked for years to create a park that truly resembled Erfurt. The German city is known for its history and large gardens. It is known as the flower and garden city of Germany. Erfurt Park was built with features inspired by Aga Park in Erfurt like a winding flower garden that mimics a larger version in the German park and features plants grown from seeds imported from Erfurt. There is also a lookout hill with a spiral path to the top surrounded by wild flowers and prairie grass.
"We have focused on making this park a reflection of the life and values of Erfurt," said Shawnee Parks and Recreation Director Neil Holman.
Council Member Jeff Vaught spoke on behalf of Mayor Michelle Distler and Council President Stephanie Meyer who were unable to attend the event and said that the values of the people of Erfurt and Shawnee are the same.
"The values of community and family," Vaught said.
The winding flower garden that families will be able to walk through was dedicated to Gabriel Schmidt of Erfurt with a surprise dedication ceremony for someone that former Mayor Jim Allen said was instrumental in the planning of the park.
"This will always be a testament of what good can be sown when people of different cultures and backgrounds come together to foster goodwill and friendship," Allen said.
Schmidt, who was one of 13 visitors from Erfurt who came for the park's dedication, couldn't contain her emotions when she was presented with her commemorative plaque.
"I cannot find the words to describe this," she said through tears. "Thank you so much, it was a lot of fun."
The parks' completion marked the end of about 15 years of planning and two years since the city broke ground on the $1.5 million 20-acre park on 71st Street just west of Gleason Road. The park's construction was funded with the Parks and Pipes sales tax approved by voters last year and the city was also rewarded a couple of state grants throughout the construction process.
Former Shawnee Mayor Jeff Meyers took a moment after Saturday's ceremony to look out at the completed park. He soaked in the culmination of the work of so many people.
"This is going to be something that will be enjoyed by people for decades to come," Meyers said.