Motorcyclist critically injured in Sunday hit-and-run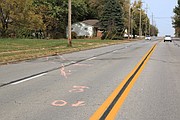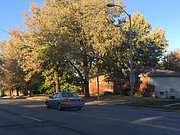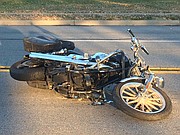 The Shawnee Police Department's Traffic Safety Unit is investigating after a motorcyclist was struck and critically injured near 61st Street and Pflumm Road on Sunday evening.
Major Dan Tennis says, "at about 5:25 PM, a vehicle was traveling northbound on Pflumm and crossed the centerline in the 6100 block. The vehicle struck a motorcycle that was traveling southbound, head on."
Nearby resident Brandon Grimm says he was in his garage when he heard a loud crash. Grimm stepped out into his driveway to see a car driving over the sidewalk and back onto Pflumm Road.
"She drove over the sidewalk on the west side of Pflumm and then drove towards Johnson Drive," Grimm said.
Johnson County Med-Act transported the motorcyclist to Overland Park Regional Medical Center with "critical" injuries. Maj. Tennis confirms that a female motorcycle rider suffered critical injuries.
A second Med-Act ambulance treated the female driver of the car for minor injuries at the scene. The woman was not transported by Med-Act.
Spray-paint markings left behind by investigators follow the path of the suspect vehicle from where the motorcycle was struck, just north of 61st Terrace on Pflumm Road. The markings then lead off the west side of Pflumm, around a utility pole and over a sidewalk, before crossing back to the northbound lanes of Pflumm. The markings cross the centerline a second time in the 5900 block of Pflumm. The markings end where the vehicle came to a stop, near Johnson Drive.
Officers are investigating the crash as a possible hit-and-run. Major Tennis says, "from where the crash happened to where the vehicle stopped is not far."
Maj. Tennis says, "these cases can quickly go from an accident investigation to a criminal investigation."
"Police are trying to determine if alcohol was a factor with the driver of the vehicle," Tennis said. "She was processed for possible DUI, charges are pending."
On Tuesday morning, Major Tennis released that the driver of the car is a 26-year-old Shawnee woman. The motorcyclist remains hospitalized in critical condition.
If you have any information regarding the crash, contact Shawnee Police at 913-631-2150 or the TIPS Hotline at 816-474-8477.
Reported by Operation 100 News.