Shawnee, church community celebrate cooperation in volunteerism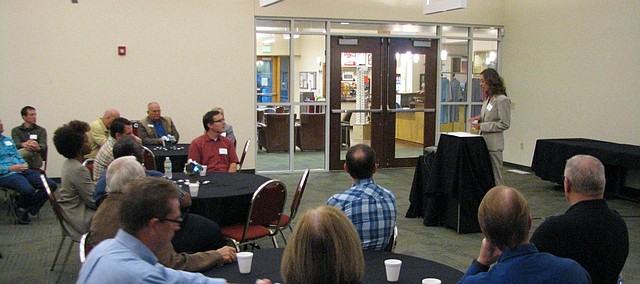 The city of Shawnee and the city's church community are working together to make volunteering in Shawnee more easy.
Chris Winn, lead pastor at Community Life Church, gathered with other church leaders Wednesday morning to celebrate and build upon the cooperative relationship with the city that began two years ago. The cooperative effort has seen the city and church communities work together to aid citizens in need. A round of new graduates go through the Community Emergency Response Team training class, host food pantries and trash pickup events, and even organize new neighborhood meetings.
Winn said the relationship began when he and several other pastors approached then-mayor Jeff Meyers and offered to do what they could to help the city.
"We simply said, 'Let's try to get things done by connecting the city with the people in the pews,'" Winn said.
Together with Meyers and city staff, a committee was formed to organize people of any faith from any church, synagogue or temple and facilitate more volunteerism in the community,
The city and church partnership meet monthly in what they call "catalyst teams" and work to find ways to recruit more volunteers and partner with other organizations to achieve the same goal. The partnership identified four area to focus on in the city that were identified as having the greatest need.
One area is emergency preparedness. The primary goal of this team is to ensure that the community is prepared and equipped to respond to emergencies and disasters in cooperation with city leaders. Volunteer opportunities in this group include CERT team training and other chances to work with churches and other organizations to make sure they are ready to respond in a timely manner with the equipment and supplies needed for an emergency.
This team helped facilitate the establishment of a new Shawnee Fire Department Chaplain in January. Pastor Don Lewis of Cross Points Church said he and others were simply looking for ways to give back to the city that they call home.
"We wanted to seek the wellbeing of the city," Lewis said. "We want to serve the city."
Another area is basic community needs. The primary goal of this team is to create a system where needs identified by city leaders can easily be distributed to Shawnee churches for immediate volunteer help. The group is creating a system where needs can be tracked and confirmed upon completion. This might include volunteer opportunities for families in need who may be unable physically or financially take care of themselves. It also includes opportunities to volunteer at city events.
The third area identified was education. The primary goal of this group is to connect the community with Caring for Kids to process and help facilitate partnerships between churches, businesses and civic groups to serve the Shawnee Mission School District. These opportunities include serving as a tutor or mentor or meeting any needs identified by principals and school leaders.
The fourth area identified by the partnership is a spiritual support team. The primary goal of this team is to mobilize churches to pray for the wellbeing of Shawnee and the success of its city leaders.
Mayor Michelle Distler, who was honored last year for volunteering more than 400 hours, thanked the churches involved and said the relationship is valued by the city and will hopefully continue to grow throughout the years.
"We couldn't do what we do as a city without all of you," Distler said.